Feed a Friend for a Fiver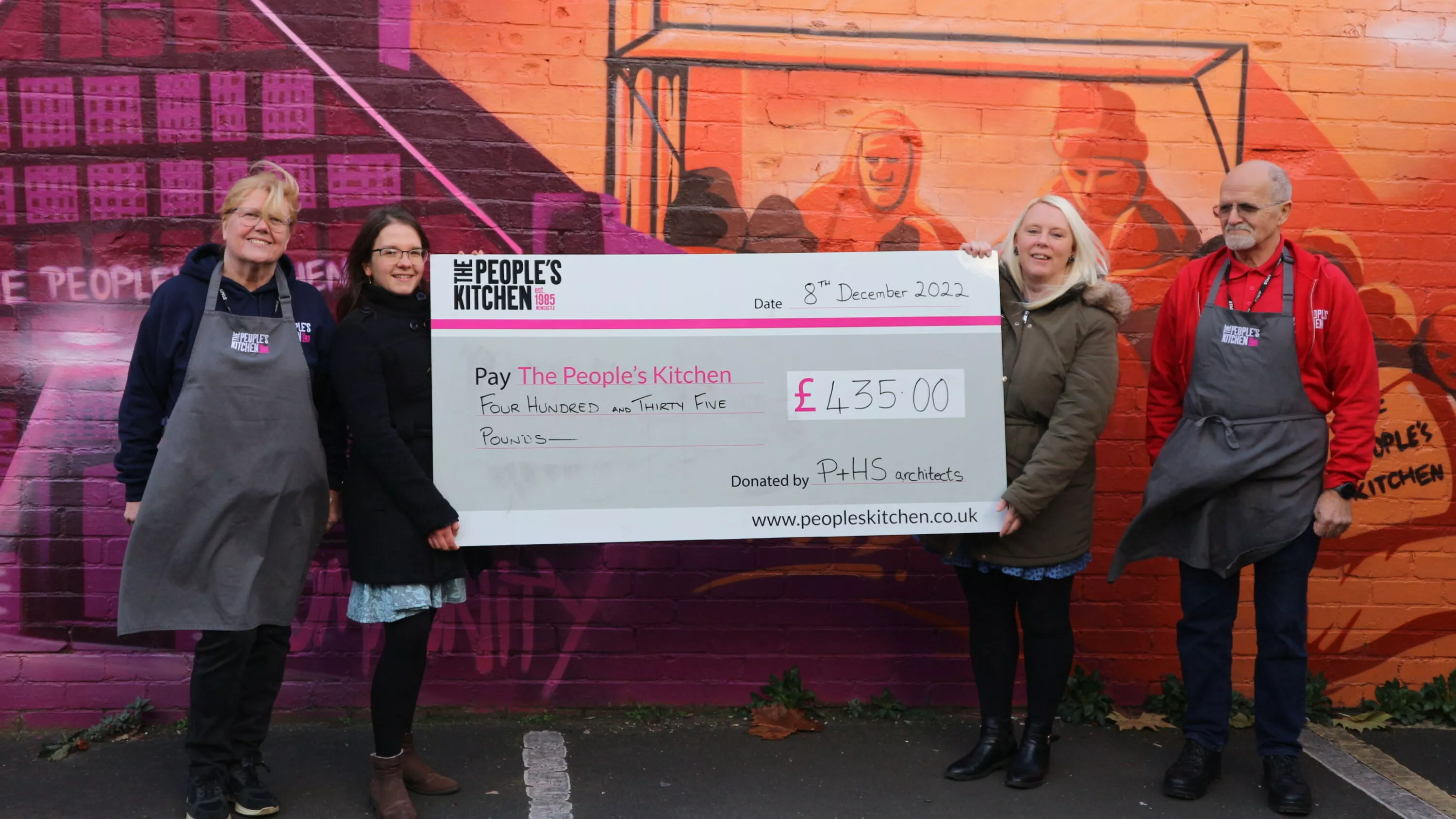 Feed a Friend for a Fiver
We are delighted to be able to support The People's Kitchen (TPK) in their Feed a Friend for a Fiver campaign this year.
Today Donna and Jess from Newcastle office visited the charity to see them at work and present a cheque to the value of £435 (£5 for each of our colleagues at P+HS Architects).
The People's Kitchen work tirelessly providing food, friendship and futures to make life better for vulnerable people. They serve 250 nutritious meals per day 365 days of the year but they provide much more besides. After their tour of the building, Donna told us more:
" The charity uses the term 'Friends' rather than terms such as service users, clients etc. This organisation is run by volunteers, no one gets paid a wage, every penny goes towards buying food. Some food is donated, and cash donations go on buying fresh meat, fruit, and vegetables to enable them to offer a healthy, filling meal.
The kitchen area was filled with food some was for the cooking that day and the rest was a reserve that they must always keep stocked up for emergencies. Staff would be coming in shortly to begin cooking the food for around 250 people that will arrive for a hot meal today. There were big tables with lots of chairs, in a warm, clean dining room, decorated for the festive season.
Some people will come in for a hot drink, somewhere to sit in the warmth and have a little company, others will have a hot meal, soup, and a pudding.
There was a seating area with a lovely Christmas tree, this is known as the library area, friends can read/borrow books and DVDs. There is also a shower room so those who have no access to this type of facility can have a hot shower. They also have stores where clothes can be given out to those who need them, the friend may be homeless or have no way of keeping their clothing clean. There's access to sleeping bags and blankets.
TPK give out food parcels every week on a Tuesday, toiletries monthly and have a small area containing food items that friends can take home to make a meal. This is usually food items that don't require cooking as some people have no access to cooking facilities or cannot afford the energy costs of running a cooker. This can be bread, tinned tuna, and cereal.
People from all walks of life come through their doors, people who have jobs use the service as the cost of living coupled with the energy crisis has impacted their ability to heat homes and eat, meaning they must make tough choices.
The People's kitchen also has welfare volunteers who will support friends with help with benefits & housing issues, also they can provide some basic items when a friend has been able to secure accommodation, this gives them a better start in their new home making it more likely to become a permanent place they can call home.
They have health staff coming in, people from the needle exchange and other places to provide as much support as possible to any friend who needs it. The friends trust the staff at the People's Kitchen which is open 365 days of the year.
Whilst we were there, there was a group of men and women sat at a table, who were starting a corporate volunteering day which the People's Kitchen absolutely love as this helps raise awareness of the amazing work they do, and get a helping hand for the day."
Thanks Donna, a really interesting insight to the work of this great charity. #enhancinglives
For more information visit https://peopleskitchen.co.uk/