P+HS Out and About Visiting Homeless Charities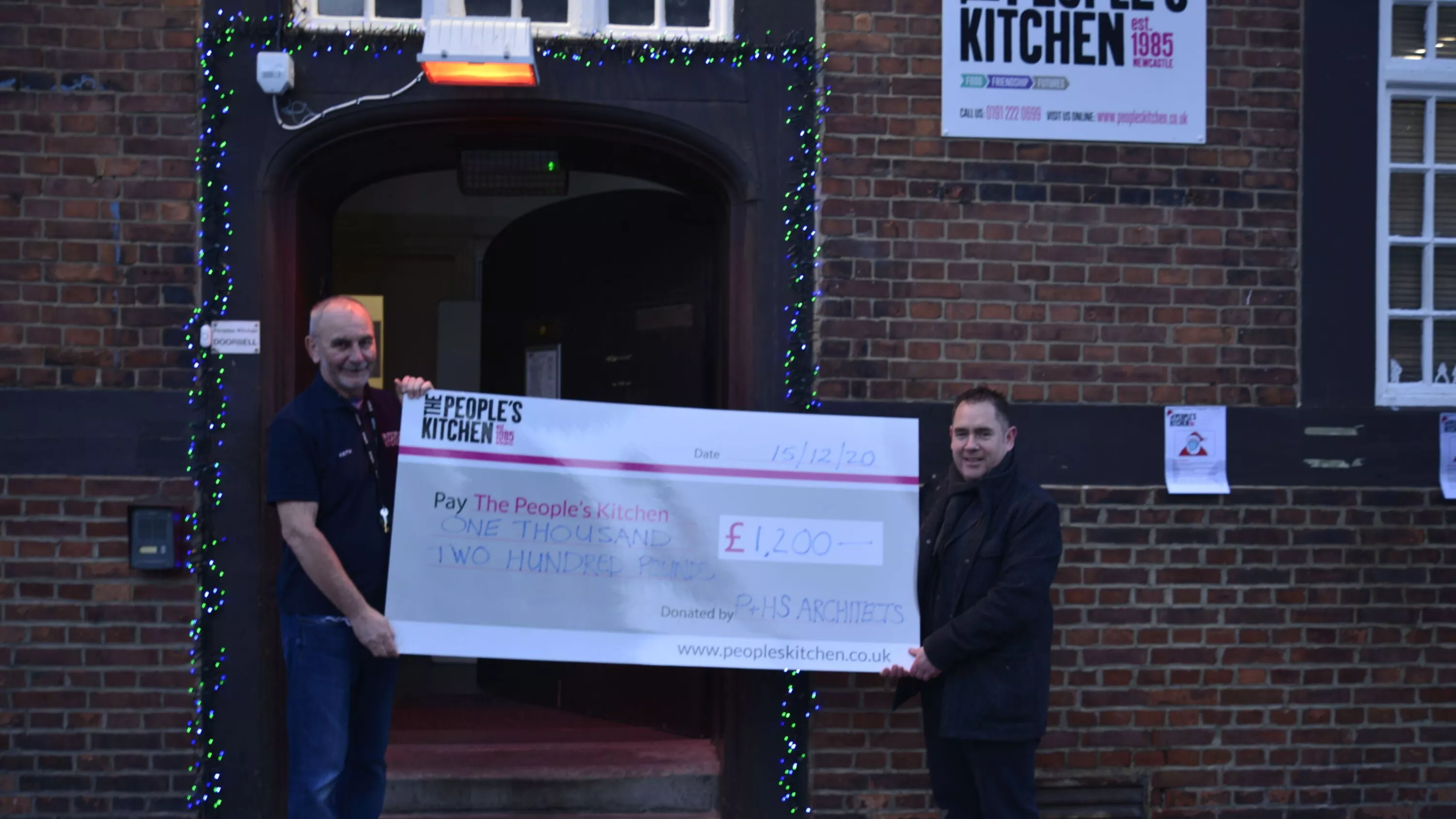 P+HS Out and About Visiting Homeless Charities
This week we were delighted to visit our chosen charities and hand over cheques totalling £3600 to support work with homeless and vulnerable people in the cities of Newcastle, Middlesbrough and Leeds.
In Newcastle, Derek Shepherd met with volunteer Keith Armstrong at The People's Kitchen. Derek said " We are delighted to support the People's Kitchen this year with a donation of £1200. Having been invited to hear about the fantastic work the volunteers of the charity provide, it was humbling to see that over 150 people in the Newcastle area are provided with food and clothing each day, 7 days a week. Issuing a 3 course meal, and breakfast on the weekend, to those who need support is a truly magnificent undertaking and one we hope our small contribution will assist with.
Practice Manager Natalie Stirland visited the Neighbourhood Welfare Hub in Middlesbrough to present a cheque for £1200 to Susan Gill who has been involved with the charity for over 13 years.
Natalie said " It was a privilege to meet Susan and to hear about the good work that she and all the volunteers carry out for homeless people in Middlesbrough. As well as physically cooking and providing around 80 hot meals each day, warm clothing, bathroom facilities, so that there is somewhere to go for a hot shower, they also provide compassionate support. Susan shared some harrowing but also uplifting stories and we are honoured to be able to help support this amazing charity. Our contribution is going to go towards providing much needed takeaway boxes and cutlery, a new expense for the Charity due to Covid restrictions."
Finally, in Leeds our team chose Simon on the Streets as the charity to benefit from a further £1200. Associate Alice Green dropped in on the charity to present our cheque as the team were packing boxes ready for Christmas. Simon on the Streets deliver outreach on the streets to the homeless community and those that are most vulnerable in Leeds, Bradford and Kirklees. They work directly with people on the streets, building relationships and providing practical and emotional support.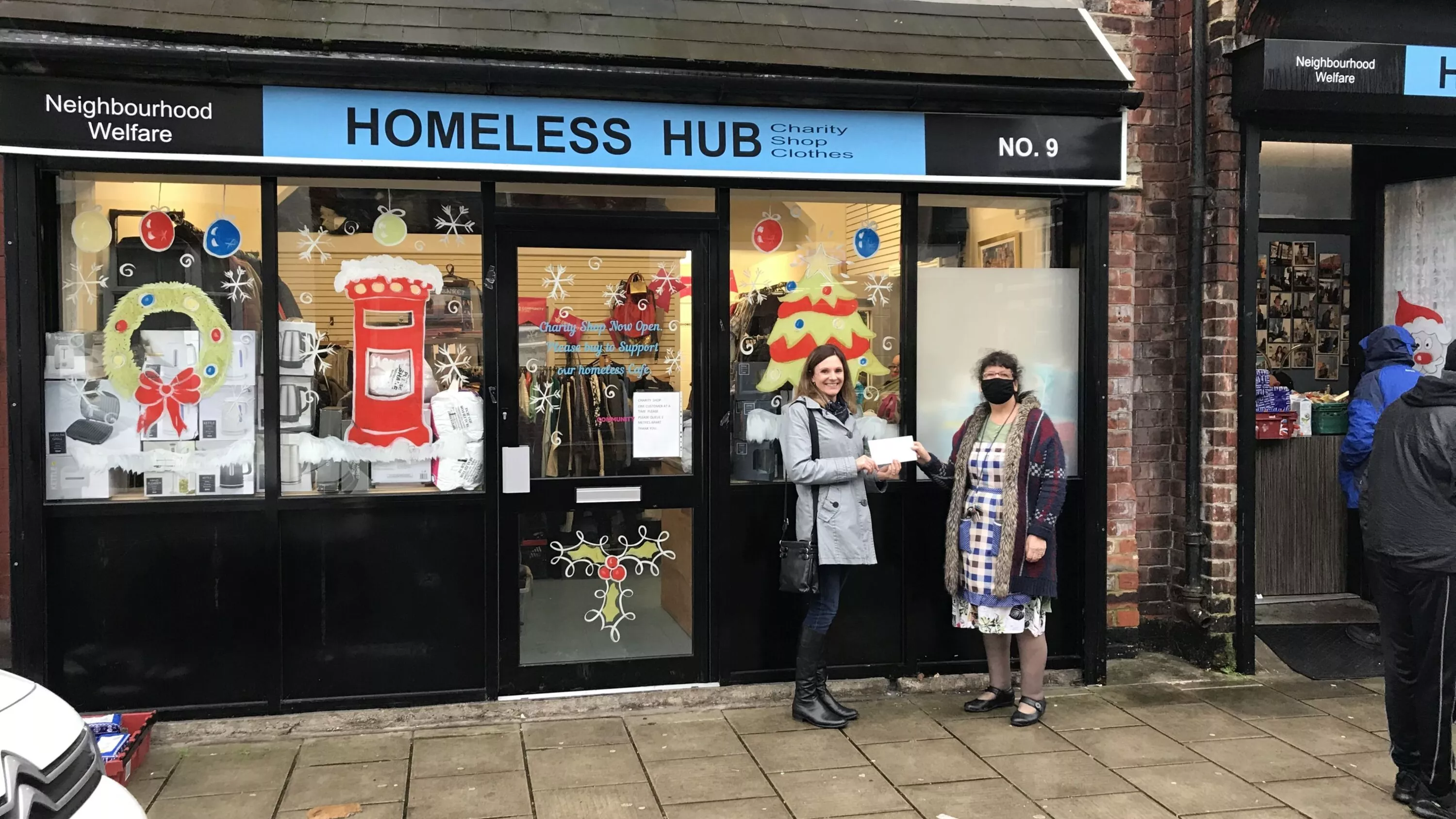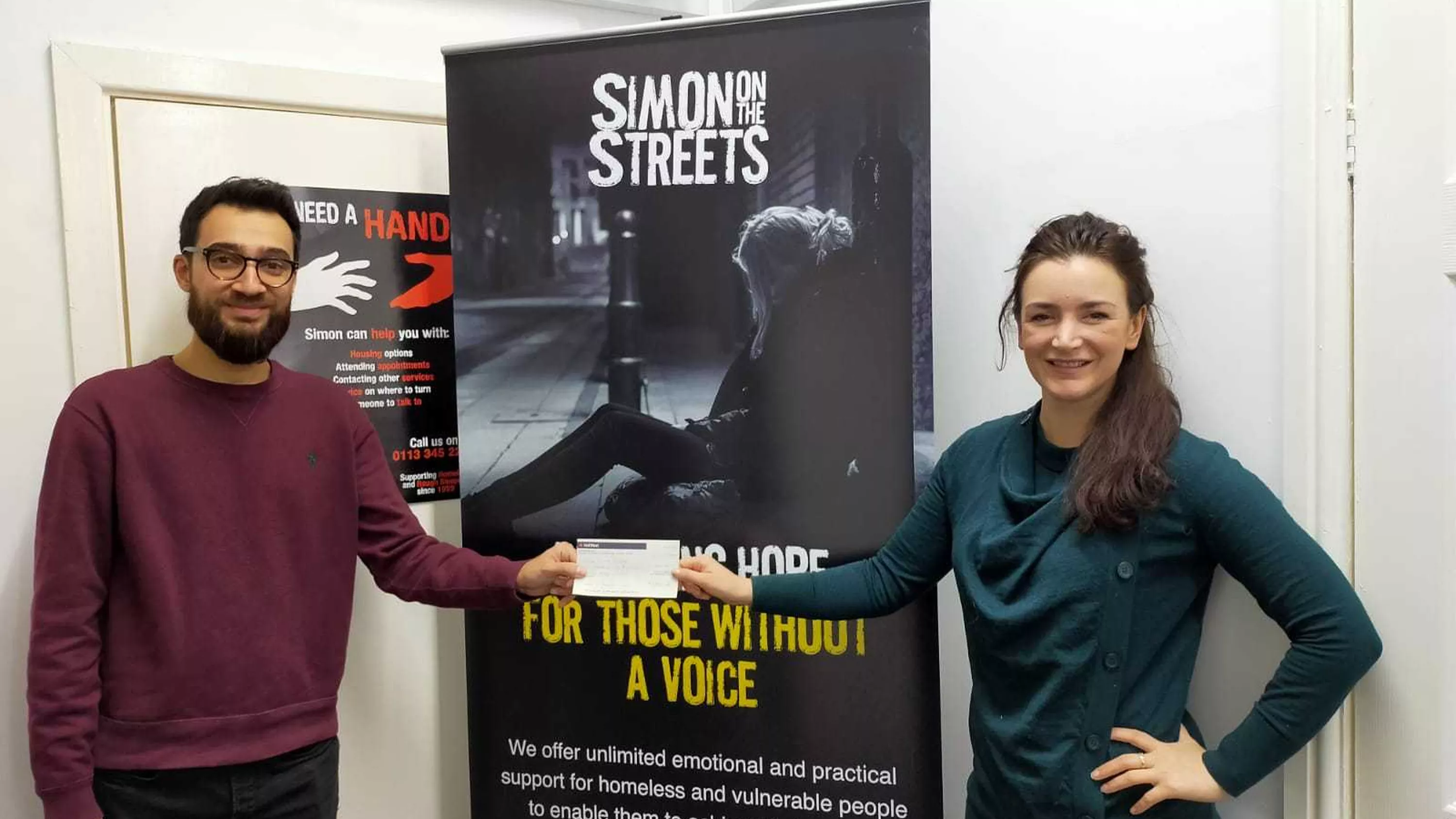 Left: Natalie visits Middlesbrough's Neighbourhood Welfare Hub. Covid restrictions has meant closure for their cafe but they are running a takeaway service instead. The cost of cutlery and takeaway food boxes has put a new strain on the charity's funds. If you know of anyone with supplies to help, please get in touch with the charity directly via their Facebook page
Right: Alice Green meets Development Manager Fahad Khan at Simon on the Streets' HQ in Leeds and hands over P+HS Architects' cheque for £1200. Earlier in the Year, as part of the wider P+HS team effort Alice went hiking, scrambling and running over the Wasdale Horseshoe: 8 peaks, 27 kilometers and 3000 meters of ascent and individually raised an additional £560 for Simon on the Streets. Good work Alice!
'