Turf Cutting for New Diagnostic and Treatment Centre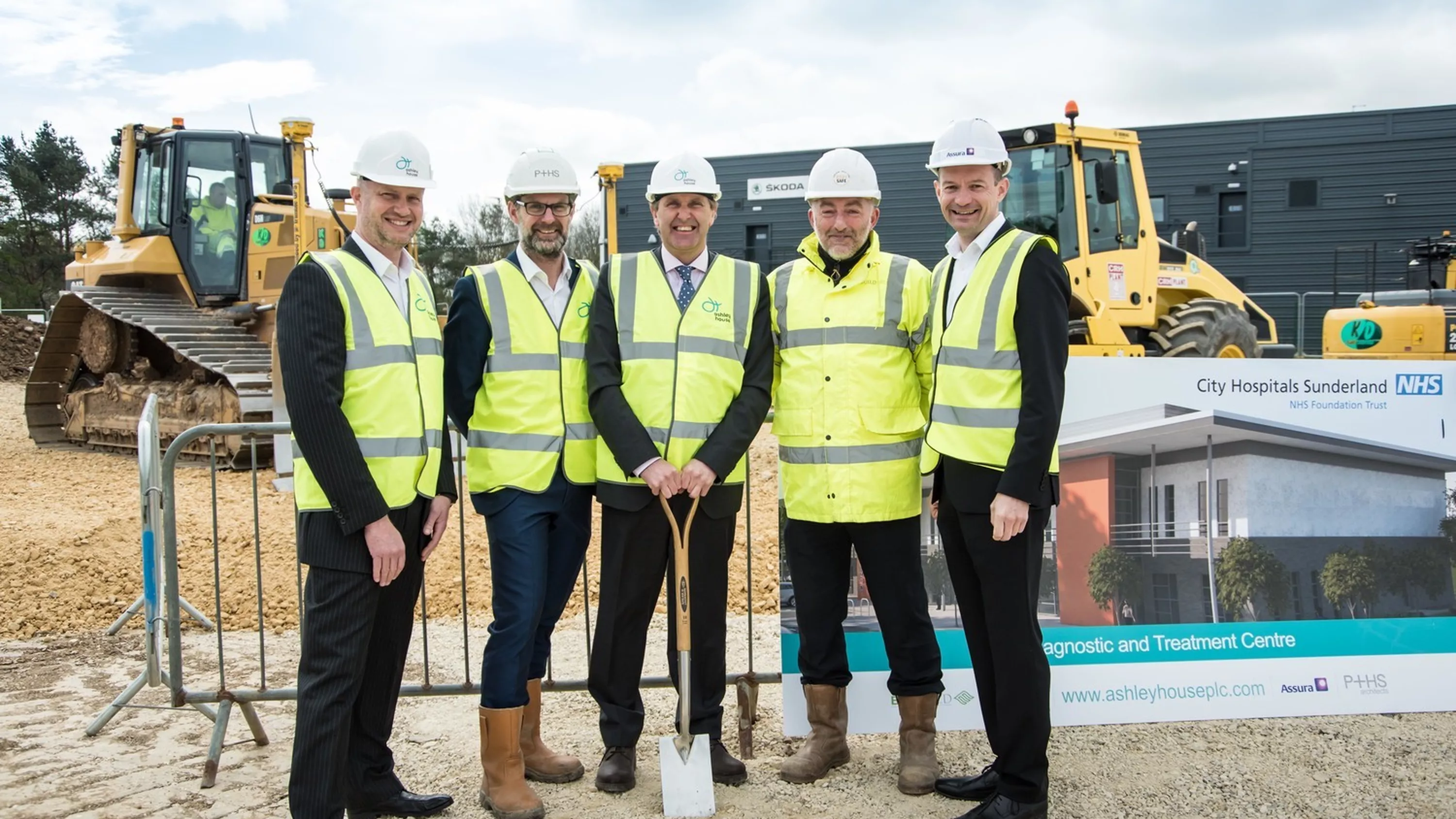 Turf Cutting for New Diagnostic and Treatment Centre
The start of construction for a state of the art new Diagnostic and Treatment Centre on a site in Belmont, north east of Durham has been marked with a turf-cutting ceremony.
The centre is being delivered by Ashley House plc in partnership with City Hospitals Sunderland. The two storey, Diagnostics & Treatment Centre will provide purpose built, modern, high quality facilities specifically designed to cater for community renal dialysis and day surgery. It will provide enhanced facilities in order to meet modern healthcare objectives whilst at the same time allowing flexibility for future growth, and helping to relieve pressure on other NHS facilities. The new facility will be located centrally at Belmont, serving patients from the north eastern areas of Durham and beyond.
The building, once complete, will provide 2,500 square metres of accommodation and will be accessible to people across the City. The project is being delivered by Ashley House which has engaged funders Assura, P+HS Architects and Durham- based contractors Esh Build.
Joe Biggs, Managing Director of P+HS Architects, said " It's highly rewarding to be working again with City Hospitals Sunderland, Ashley House and Assura with whom we have previously completed many highly successful and innovative schemes. The design for the new scheme in Durham was based on a similar scheme, also operated by the Sunderland Trust, which we completed in Washington in 2006 for NHS South of Tyne. The benefits and quality of the Washington scheme, particularly in terms of community based renal dialysis,were the inspiration for the new scheme which provides a high quality service for patients but avoiding the need for travel to the General Hospital sites in either central Durham or Sunderland. We strive for continuous improvement in all of our design work and having repeat opportunities, as here in Durham, is an ideal scenario allowing us to generate highly innovative solutions."
Jonathan Holmes, Ashley House's Commercial Director said: "As a social developer we have worked closely with the Trust, its clinicians and P+HS Architects to ensure we are delivering an innovative facility helping local people access the highest quality services closer to home. We are particularly pleased to be working with partners that share our values and ensure the local economy benefits from the construction as well as the health services into the future."
Ken Bremner, Chief Executive of City Hospitals Sunderland NHS Foundation Trust, said: "I'm delighted that work has started on our new diagnostic and treatment centre. This facility will not only provide a range of key services in much closer proximity to Durham, but it will allow us to expand and improve those services for the benefit of many of our patients who currently have to travel to Sunderland to receive the care they need."
Assura's Development Manager, Paul Warwick added: "This is about building for the NHS of the future – a future in which patients won't always have to travel to hospital for tests and treatment, and in which diagnostic and treatment centres are fit for the job they need to do. We're very proud to be funding this centre and look forward to seeing it take shape."
Wayne Carr Director for City Hospitals Independent Commercial Enterprises LTD (CHoICE) "We are delighted to be project managing this exciting development on behalf of City Hospitals Sunderland. Our dedicated team will work closely with all parties to ensure a high quality, state of the art facility to deliver excellent patient care. With CHoICE Facilities Services' commitment to service excellence, we are at the forefront of improving the value of NHS support services".
Shown in Picture - The team for Durham's new Diagnostic and Treatment Centre: L- R: Jonathan Holmes, Ashley House; Adrian Evans, P+HS Architects; Ken Bremner, City Hospitals Sunderland NHS FT; Paul Redmond, ESH; Paul Warwick, Assura