Berwick Community Hospital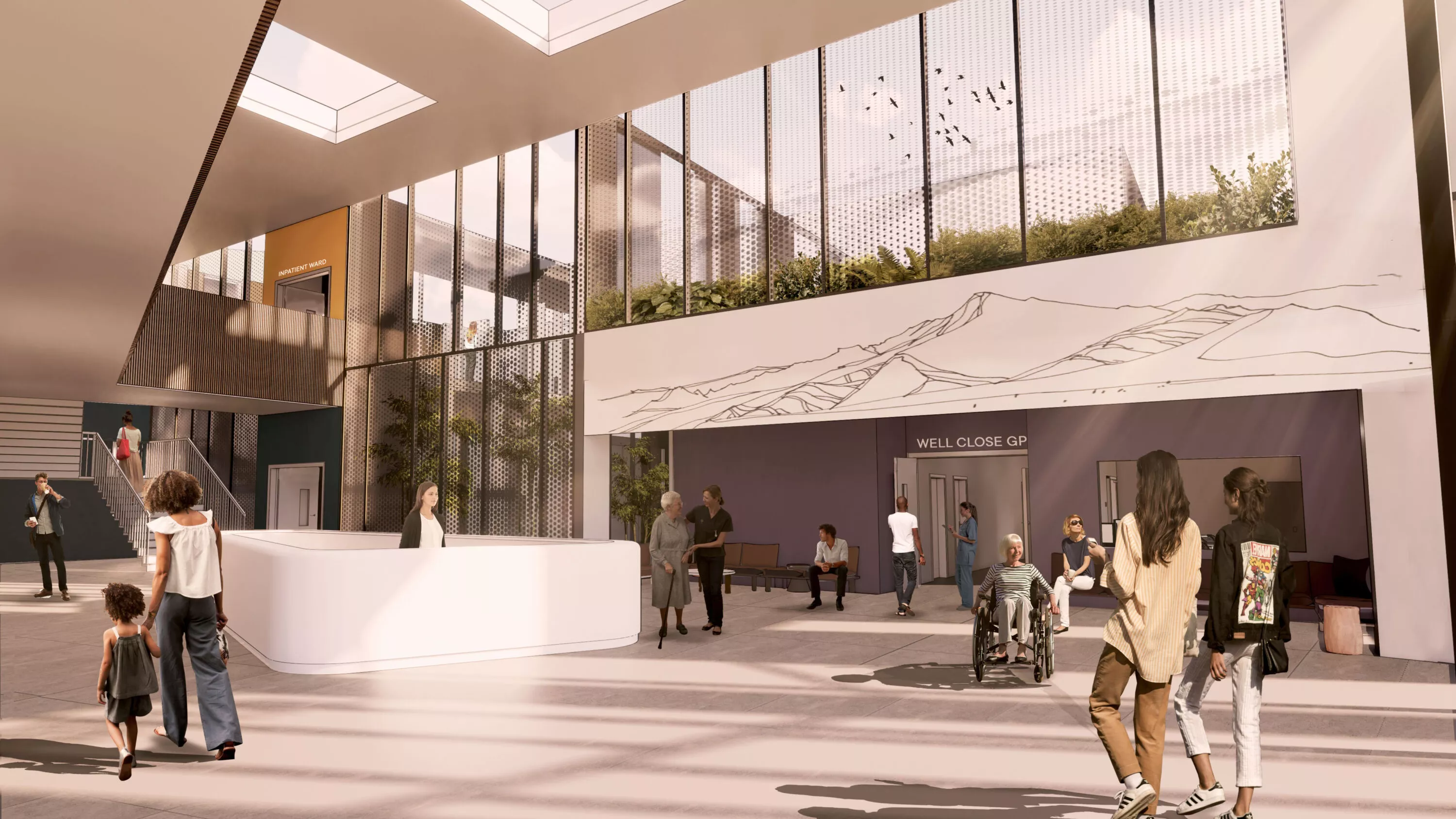 Berwick Community Hospital
The new Berwick Community Hospital received unanimous planning approval from Northumberland County Council on 1st December 2020. P+HS Architects worked closely with planning partners Lichfields and Northumbria NHS to achieve this important milestone in providing a modern, fit for purpose new healthcare facility for the community of Berwick upon Tweed. Plans progressed in spite of the pandemic, using online platforms in place of face to face consultations and key meetings.
Located in the heart of a conservation area and adjacent to a site of special scientific interest, the design has balanced 21st century healthcare with the need to reflect the protected local character and minimise impact.
Using a fabric first approach, the new hospital will be a first in healthcare design, utilising new technologies to efficiently power the building and reduce its overall carbon footprint. Operationally the building will be highly energy efficient through the use of air source heat pumps and solar panels, both preventing energy waste and promoting better use of renewable resources. Gas power will be removed in its entirety in favour of an all-electric approach.
Modern methods of construction have been incorporated into the design at an early stage, with clinical pathways being assessed for suitability against a prefabricated approach and standard room types being tested with stakeholders to maximise factory fitouts and minimise on site construction.
The design team has also found itself in the unique position of amending the design to evolve in response to the coronavirus pandemic. Wider corridors and increased focus on open, flexible spaces, combined with touchless access strategies and an updated approach to one-on-one engagement have all been incorporated as the design progressed. All whilst ensuring the internal environments remain pleasant and enjoyable spaces befitting of a modern, community focussed healthcare environment.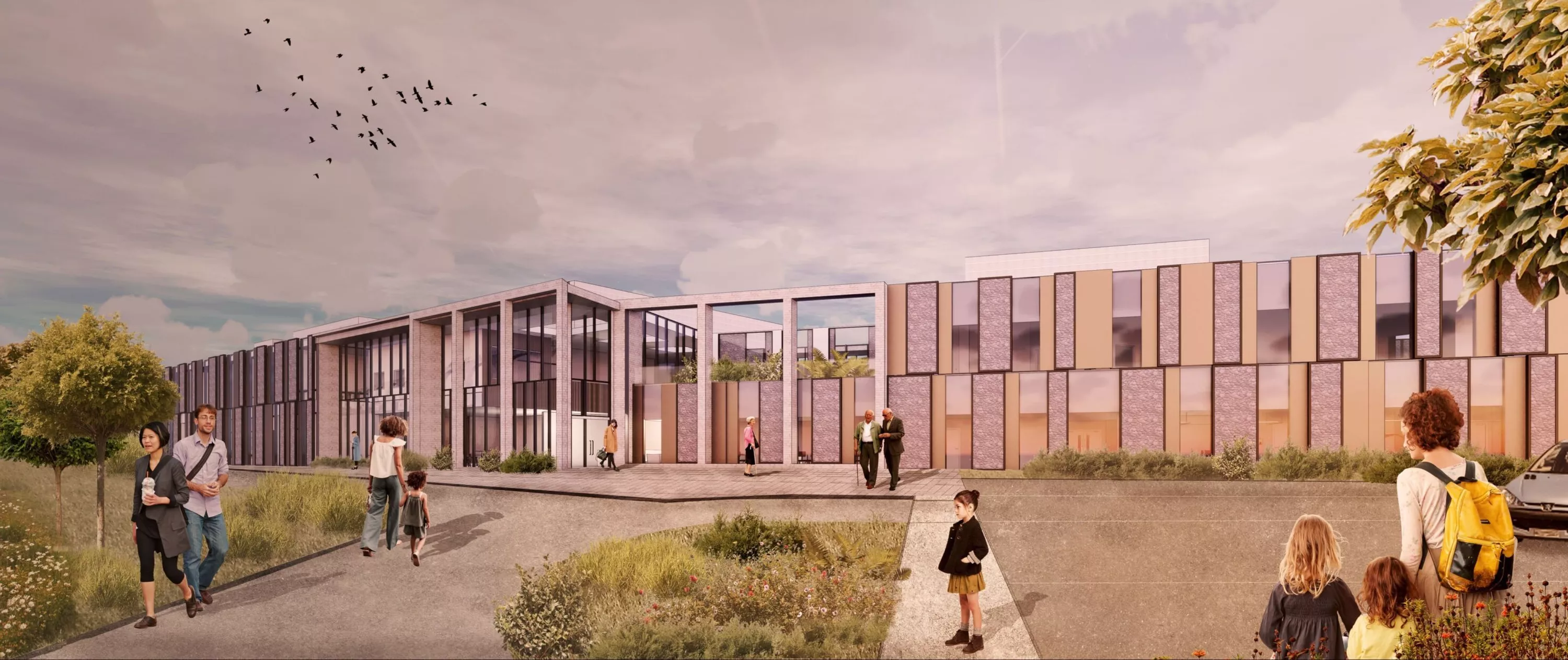 Once built, patients and staff will benefit from large feature windows and views out towards the nearby listed Elizabethan defences or internally towards the thoughtfully curated gardens designed by our landscape partner One Environments. The elderly inpatient ward will have access to a rooftop garden with extensive views and gardening activities as well as the opportunity to watch the world pass by below and see the seasons changing. The extensive landscaping will allow a strong connection to the outdoors and promote mental wellbeing for staff and patients alike. Every patient area will have access to natural ventilation through openable windows and following extensive consultation with staff and user groups, artwork will also form part of the 'fabric first' approach, with key installations integrated into the building fabric itself. This includes referential stone gabions suspended on the building envelope (filled with locally sourced vernacular stone) and the perforated ventilation panelling designed to encourage light play whilst also controlling solar gain.
Commenting on the new scheme, lead Architect Bradley Spencer said: "We are proud to have achieved this latest milestone for what will be a landmark project for Northumbria NHS and the wider community. Providing a hospital on such a tightly bound site and in the middle of a conservation area comes with multiple challenges, but working closely with our client and project team we have been able to offer a bold, yet sensitive, new chapter for the people of Berwick. Through engagement with the local Civic Society and Conservation Officer we have also been able to identify important and beloved aspects of the site, ensuring the retention of the existing 19th century bell tower (from the original 'H' plan hospital) which will be refurbished and offered back to Berwick for community use. Our biggest challenge by far has been to ensure the continuation of healthcare services throughout the duration of the works, an essential requirement for the people of Berwick who would be otherwise isolated from their nearest healthcare facilities. Through careful consultation with client and community we have been able to offer this along with an enhanced service provision after completion, providing a future-ready, modern healthcare facility."