Emergency Department, Grimsby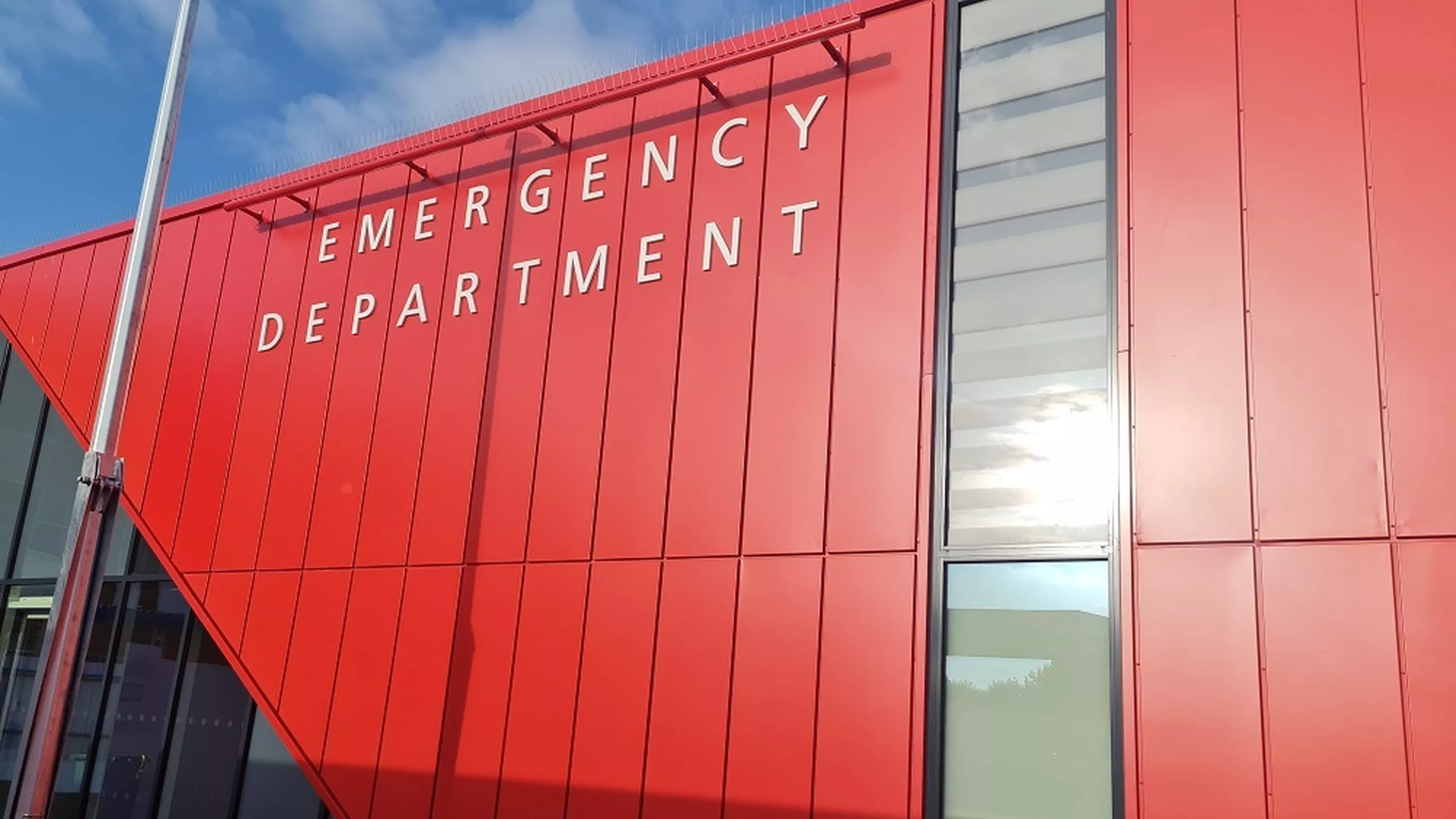 Emergency Department, Grimsby
The new Emergency Department for the Diana Princess of Wales Hospital (DPoW) in Grimsby for North Lincolnshire and Goole NHS Foundation Trust is now complete.
The £17.9 development is the first in a phase of ambitious works to improve emergency facilities for North Lincolnshire across hospital sites in Grimsby and Scunthorpe.
Improvements at DPoW and Scunthorpe General Hospital aim to alleviate pressure on emergency facilities, reduce waiting times, streamline patient flow, and provide more rapid diagnoses. Both schemes include new Emergency Departments complemented by bespoke Acute Assessment Units which will allow patients to be seen and treated by specialist clinicians more quickly, often without the need for hospital admission. Same Day Emergency Care, Assessment, Frailty and Gynaecology services are co-located with the Emergency Departments to provide a comprehensive and efficient Urgent and Emergency Care service.
Designed in collaboration with clinical teams, the new 2,225sqm building at DPoW provides greater capacity to meet current and future emergency care needs as well as space to flex in response to surges in demand. All areas are fitted out with the latest equipment and additional fundraising provided for extra touches to improve patients' experience: illuminated ceiling graphics, wall art and an interactive floor in the paediatric waiting area.

The new adult waiting area has more than doubled its seating area and there's a dedicated parent and baby room for breastfeeding and baby change. For children attending the ED there is a separate child-friendly wait area and dedicated paediatric rooms, keeping youngsters shielded from the adult environment.
Thought has been given too for those attending with mental health challenges; there is a separately furnished mental health room with en-suite where people needing further assessment can wait in a calm and dignified environment.
A major improvement from the old department is an increase in the size and number of patient assessment and treatment areas giving staff more space to work and better flexibility to deal with peaks in demand; there are now three dedicated ambulance handover bays and five Rapid Assessment Triage cubicles where previously both handover and rapid assessment were in one much smaller area. Other clinical spaces include Urgent Care Service Rooms, Resus, Majors Care and dedicated Paediatric rooms all fitted out with improved modern equipment. Monitoring and observation for patients has been improved throughout.
Natalie Till, Matron for the new ED said: "Everyone has been thought of for this build and it's a great feeling to be able to give back to the community in this way, we just want to make it as good as possible."
Construction of the new Emergency Departments impacted the wider site at both hospitals, resulting in a sequence of enabling works including refurbished office space, on-call accommodation, cycle infrastructure and new modular car park decks. The next phase of work at Diana Princess of Wales Hospital will see the old Emergency department transformed to provide Same Day Emergency Care and Acute Assessment Units. These bespoke units will work together with the new Emergency Department to provide patients with the right care from the right clinician even more quickly.
Construction was undertaken by Kier other members of the project team including WT Partnership, Mott Macdonald and Colour.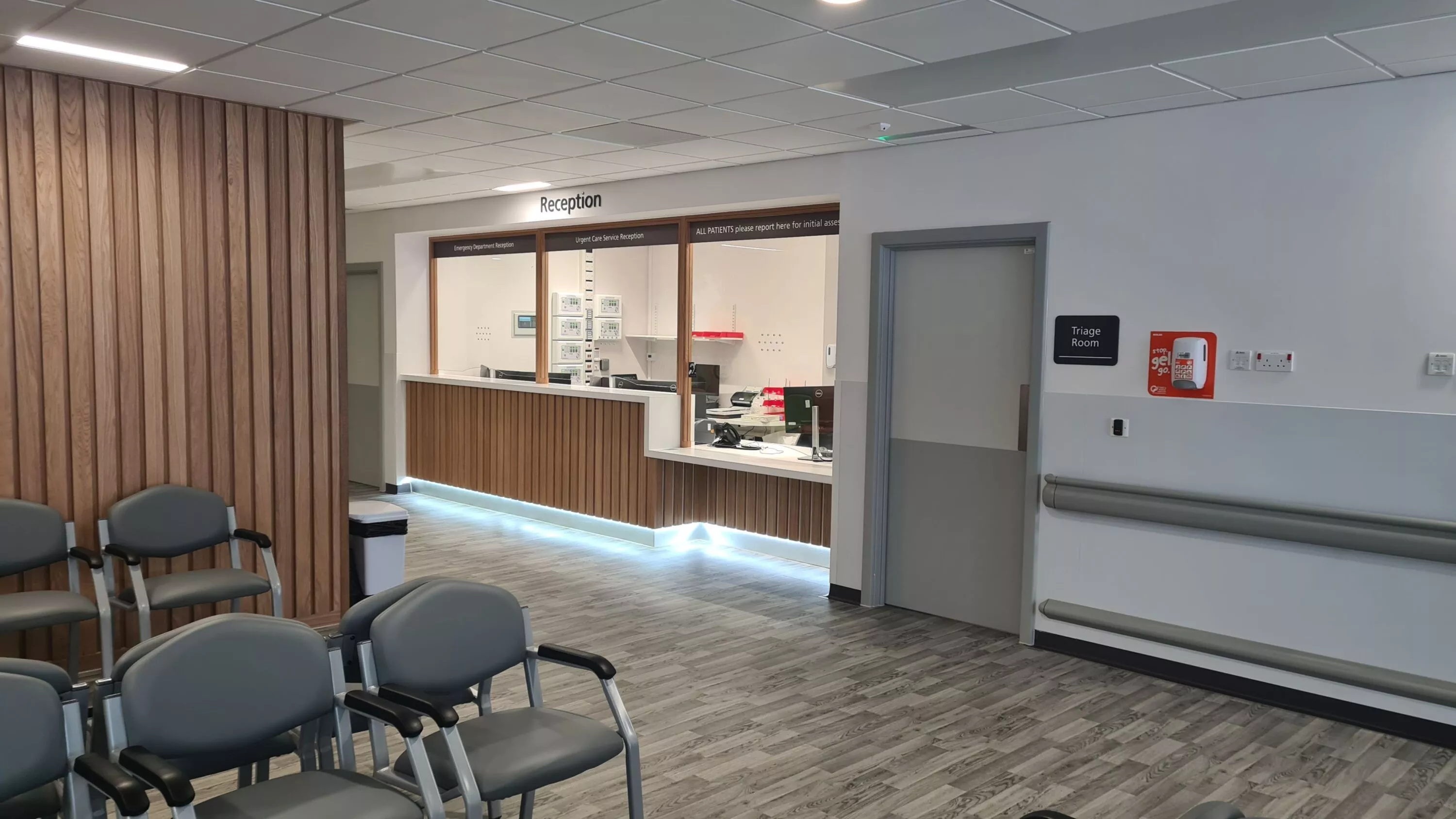 Operational Matron for the department, Natalie Till said the finished product far exceeded her expectations. She said: "I never thought that it would look like this. I think the public will appreciate it as it is such a calming area and the separate paediatric rooms make it better for younger patients."
Throughout the process, clinicians were consulted right down to where the sockets and soap dispensers were placed. Natalie said: "It's been nice to see big ideas like this come together and see it from when it was at such an early stage to now."
Dr Anwer Qureshi, Clinical Lead for the Emergency Department, said: "It's exciting times for myself and other staff with a new state of the art department that's twice the size of the old one. It's mapped for the convenience of the visitors, but also so our staff can work quicker and easier."

Take a tour of the new building with Natalie in the video below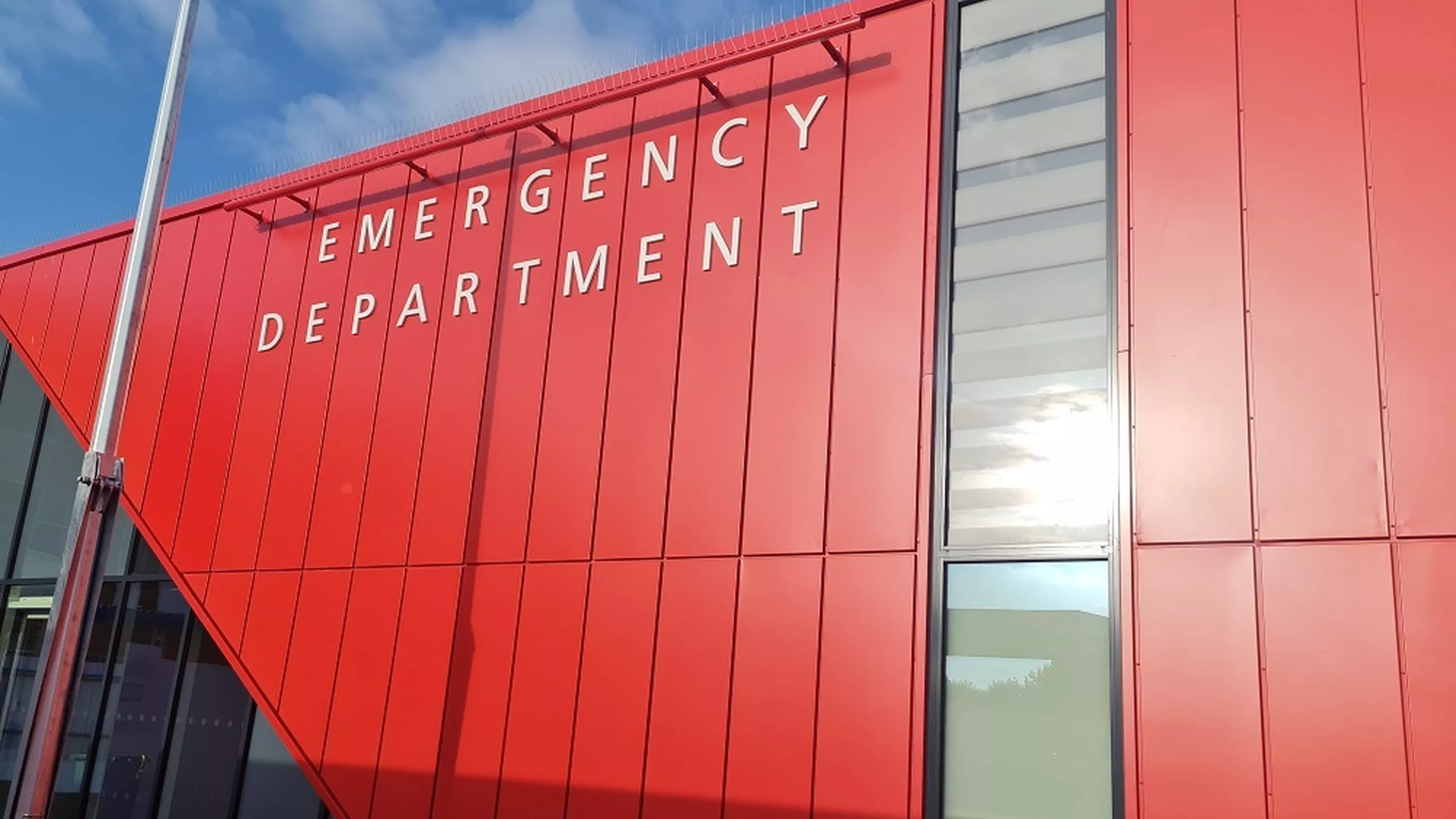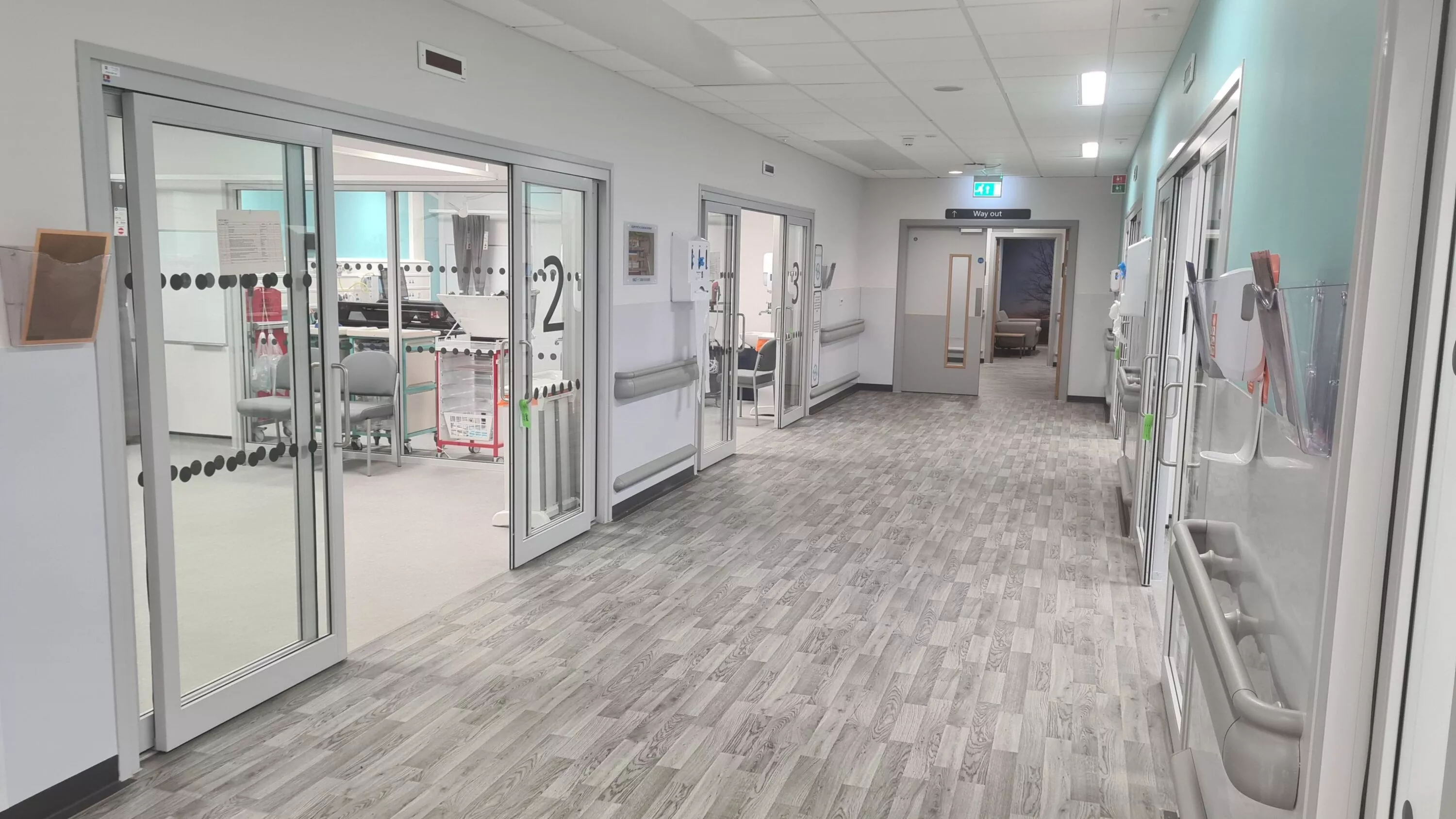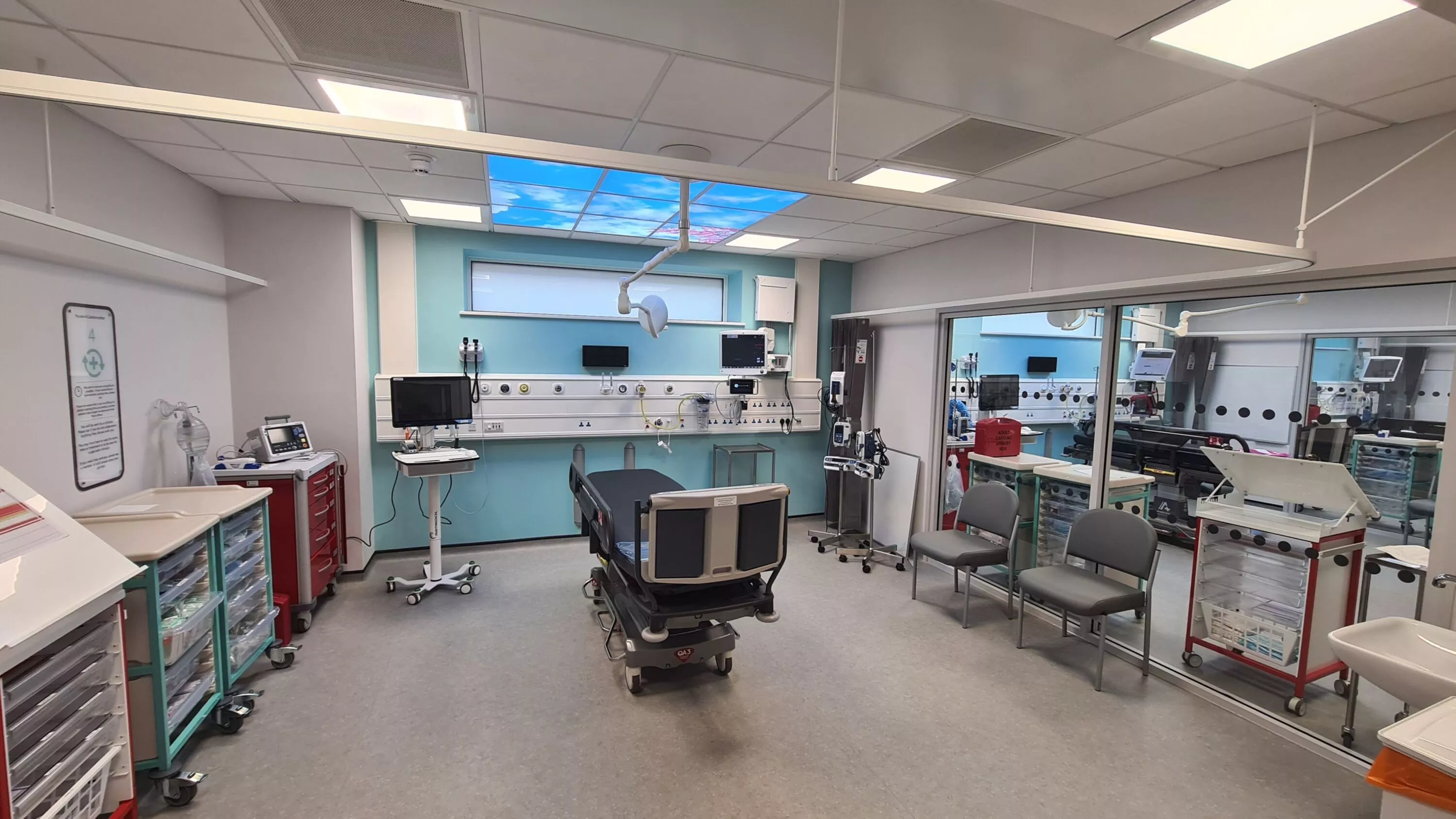 Services are tailored for younger patients visiting the Emergency Department. The paediatric rooms are separate from adult services and designed to reduce anxiety with dedicated waiting area and a range of differently designed rooms to create a more appropriate child-like environment.
Tom Potter, Healthcare Lead and Associate at P+HS Architects who led the design team said: "the design development was intense, with just 13 weeks from initial brief to the submission of a planning application. Due to Covid restrictions, we had to work remotely, using online tools to thoroughly engage with staff and clinicians to ensure that our proposals met all of their requirements. We had to be flexible in our approach, accommodating changes rapidly as the design evolved to meet the emergent client brief, and it is testament to the commitment of everyone involved that we now have a successful new building, delivering much improved emergency care emergency care."
Watch a walk-through of the developing design in its early days, narrated by Tom. Just one of the tools used to communicate proposals to stakeholders.