Emergency Department, Scunthorpe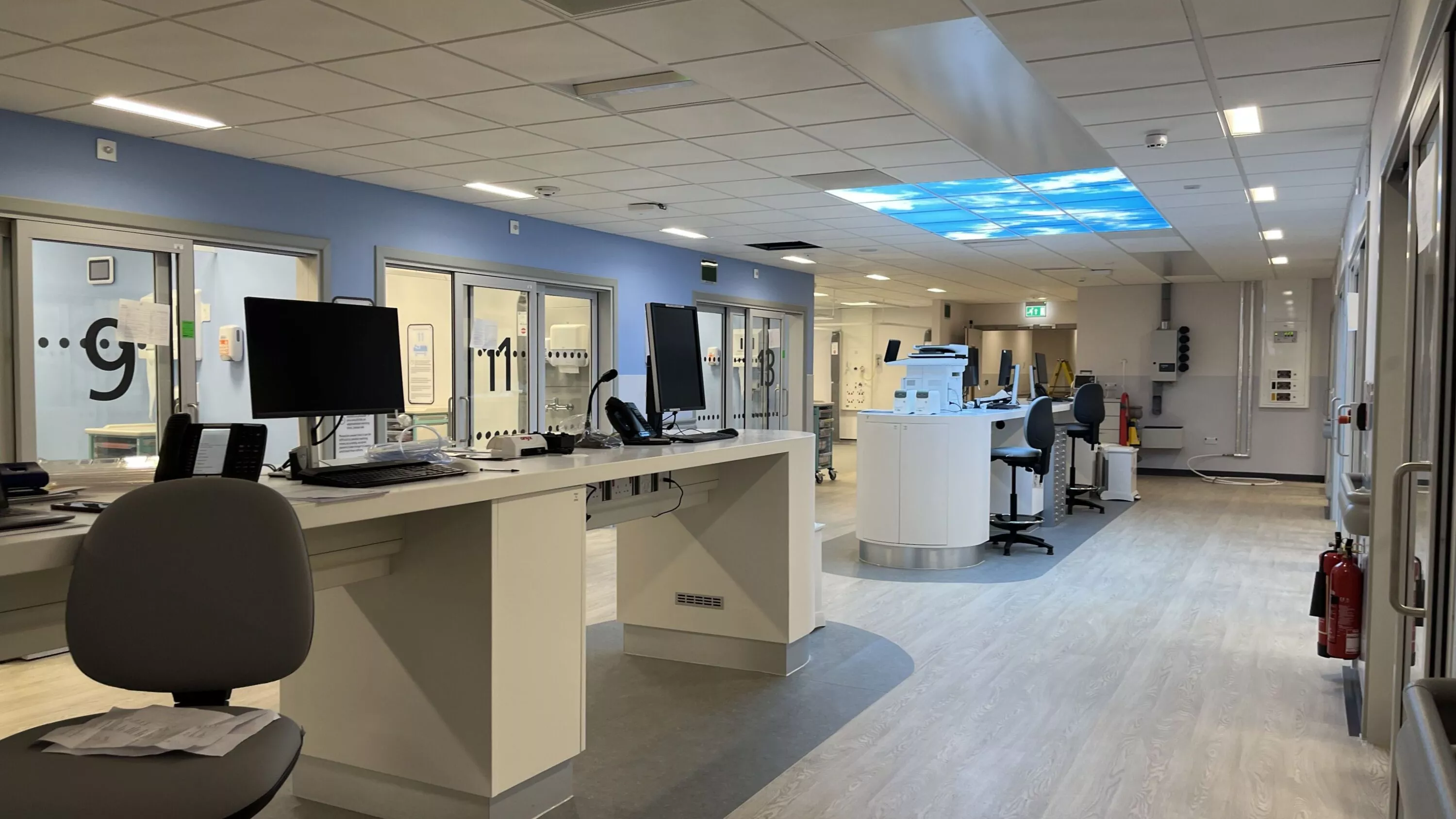 Emergency Department, Scunthorpe
The new Emergency Department at Scunthorpe General Hospital (SGH) for North Lincolnshire and Goole NHS Foundation Trust is now complete.
The £17.3m development is part of an ambitious programme of works to improve emergency facilities for North Lincolnshire across both its hospital sites in Grimsby and Scunthorpe. Improvements will alleviate pressure on emergency facilities, reduce waiting times, streamline patient flow, and provide more rapid diagnoses. Both schemes include new Emergency Departments complemented by bespoke Acute Assessment Units which will allow patients to be seen and treated by specialist clinicians more quickly, often without the need for hospital admission. Same Day Emergency Care, Assessment, Frailty and Gynaecology services are co-located with the Emergency Departments to provide a comprehensive and efficient Urgent and Emergency Care service.
Designs for the new schemes at both hospitals were developed rapidly and began during the covid pandemic. As face to face contact was restricted during this time, our teams used digital technology extensively to communicate proposals and ensure that clinicians could engage fully with the design process. Our team, led by Tom Potter, created guided and pre-recorded walk-throughs with commentary which the Trust could share, as well as fully loaded presentation models to give clinical teams every opportunity to experience the department layout and finishes.
Designed in collaboration with clinical teams, the new building at SGH provides greater capacity to meet current and future emergency care needs as well as space to flex in response to surges in demand. All areas are fitted out with the latest equipment and additional fundraising provided for extra touches to improve patients' experience: infographics, sky inside ceiling panels, wall art and an interactive floor in the paediatric waiting area.
Key areas of the new unit are: Reception, Ambulance Handover and Rapid Assessment Area, Resus, Majors, and Urgent Care Service rooms.
Graphics and signage, designed in-house, followed 'Reducing Aggression in Emergency Departments' guidance, providing information on how the department works, expected waiting times and an explanation of how patients are prioritised. The rationale is to reduce feelings of uncertainty and frustration which can lead to aggressive behaviours. The whole design supports this approach with pleasant, spacious surroundings where people can wait in comfort, where thought has been given to details like providing free charging points for phones, a play area to entertain children, dedicated parent and baby room for breastfeeding and baby change as well as a quiet mental health room providing a calm space for people awaiting further assessment.
As part of the creation of the new Emergency Departments additional works have been undertaken: a sequence of enabling works included refurbished office space, on-call accommodation, cycle infrastructure and new modular car park decks.

The next phases of work will see the old emergency departments transformed to provide Same Day Emergency Care and Acute Assessment Units. These bespoke units will work together with the new Emergency Department to provide patients with the right care from the right clinician even more quickly.
The construction team includes Kier, WT Partnership, Mott Macdonald and Colour.

Take a tour of Scunthorpe's new Emergency Department with Zoe Powell-Whiffen, Operational Matron at Scunthorpe's ED.
Resus rooms are much more spacious than the previous facilities, providing plenty of room for staff to work. Glass walls are used throughout this area to maximise observation. Sky inside ceilings are installed so patients (who in resus are often restricted to lying on their backs), have some diversion from a blank ceiling.
Graphics and signage, designed in-house, aimed to provide information to patients and manage their expectations during their visit.
Services were tailored for younger patients visiting the Emergency Department. The paediatric rooms are separate from adult services and designed to reduce anxiety with dedicated waiting area and a range of differently designed rooms to create a more appropriate child-like environment.
Tom Potter, Healthcare Lead and Associate at P+HS Architects who led the design team said: "the design development was intense, with just 13 weeks from initial brief to the submission of a planning application. Due to Covid restrictions, we had to work remotely, using online tools to thoroughly engage with staff and clinicians to ensure that our proposals met all of their requirements. We had to be flexible in our approach, accommodating changes rapidly as the design evolved to meet the emergent client brief, and it is testament to the commitment of everyone involved that we now have a successful new building, delivering much improved emergency care."
Watch a walk-through of the developing design in its early days, narrated by Tom. Just one of the tools used to communicate proposals to stakeholders.
Early visualisation of Scunthorpe's new ED