Hamminkeln Place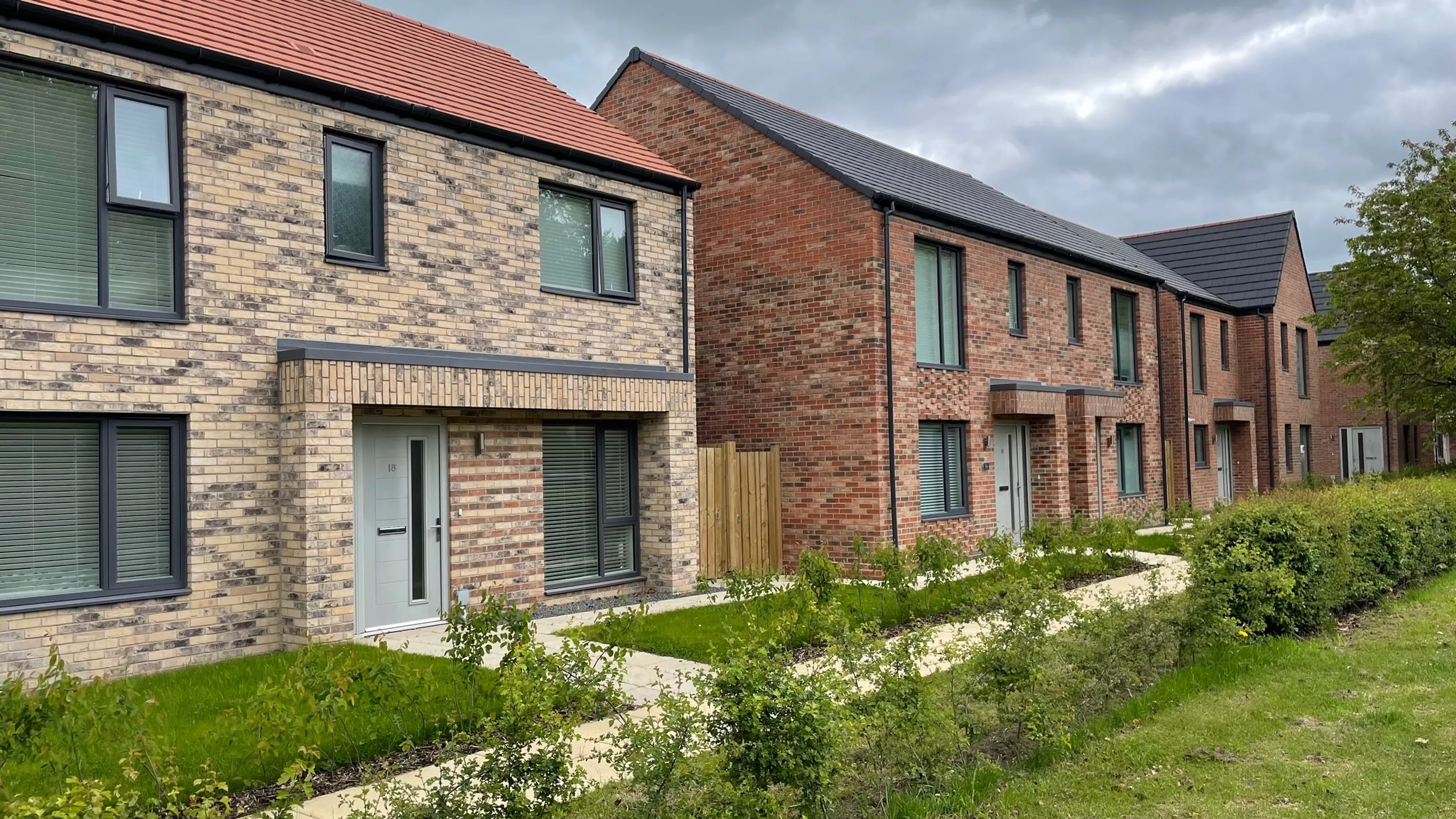 Hamminkeln Place
Hamminkeln Place is a high quality development of affordable homes on Salters Lane in Sedgefield. Developed by Hardwick Homes (NE) for Livin the scheme aimed to bring social housing of exceptional design to the local community. There are 71 contemporary homes in total with a mix of 2, 3 , and 4-bedroom properties set around an attractive open space.
The scheme had outline approval when P+HS were engaged by the client, but due to expensive diversions of existing underground services, it was not financially viable. P+HS undertook a site review and proposed an alternative layout which avoided the need for the service diversions, whilst keeping the site entrance location and dwelling numbers to ensure a smooth Reserved Matters process.
The design team had a clear vision from the outset and committed to create a scheme with contemporary character, which enhanced its surroundings and was truly tenure blind. Set within a network of green spaces promoting pedestrian connectivity to the village, the scheme has been repeatedly complimented by the local council and stakeholders alike. The scheme was shortlisted in the Northern Housing Awards as Best Development for Social/Affordable Rent and has proved hugely popular with residents.
Key to the success of the scheme was the consideration of materials used. Working with the developer, bricks chosen were of the highest possible quality within budget. Different brick choice and detailing was used on each house type to minimized the number of house type variations whist maintaining varied and interesting street scenes. Fenestration was carefully designed to maximise light into the dwellings as cost effectively as possible by using contemporary fixed panes with additional separate window openings in each space, meeting the requirements for ventilation and fire escape.
Tight funding timetables required the development be completed by March 2022. Initially the intention was that dwellings were to be built traditionally however the developer identified that delivery could be achieved on time and within budget if timber frame construction was utilised. P+HS quickly and efficiently amended the working drawings to suit the revised construction method such that there was no delay to programme.
Due to noise issues from the adjacent industrial park, a 3.5m high acoustic barrier was required. Working alongside the landscape architect, a wildflower planted bund was proposed which increased biodiversity and created a soft green edge to the site, providing a fun family friendly feature on which children could explore.
Leanne Chapman was the first to move into the new homes with son Miles, age 6. She said: "We feel so secure since moving here, it's our forever home, our neighbours are lovely and Miles now has the best possible environment to grow up in. We moved in April and we couldn't be happier with our new home. It has everything we need and more. We love the French doors that open onto the garden where Miles plays. It's so warm and cosy. I've not even had to put the heating on yet."
Alan Fletcher, chair of Livin's Board said: "As a resident of Sedgefield I am delighted to see homes being built where they are clearly needed. I am immensely proud of this project and it's wonderful to see the positive impact these lovely new homes are having on people's lives."
Finalist Best Development for Social / Affordable Rent at the Northern Housing Awards 2022 and shortlisted as Best Housing Development at CIH Northern Awards 2023.

"It was a pleasure working with you all on what was our first project together, I think I can speak for the Hardwick team in saying that P+HS were thoroughly professional throughout, the end product designed by yourselves and built by Hardwick speaks for itself. Please pass on my thanks to everyone involved at P+HS." Jeff Pike – Founder & Company Director.