Intensive Care Unit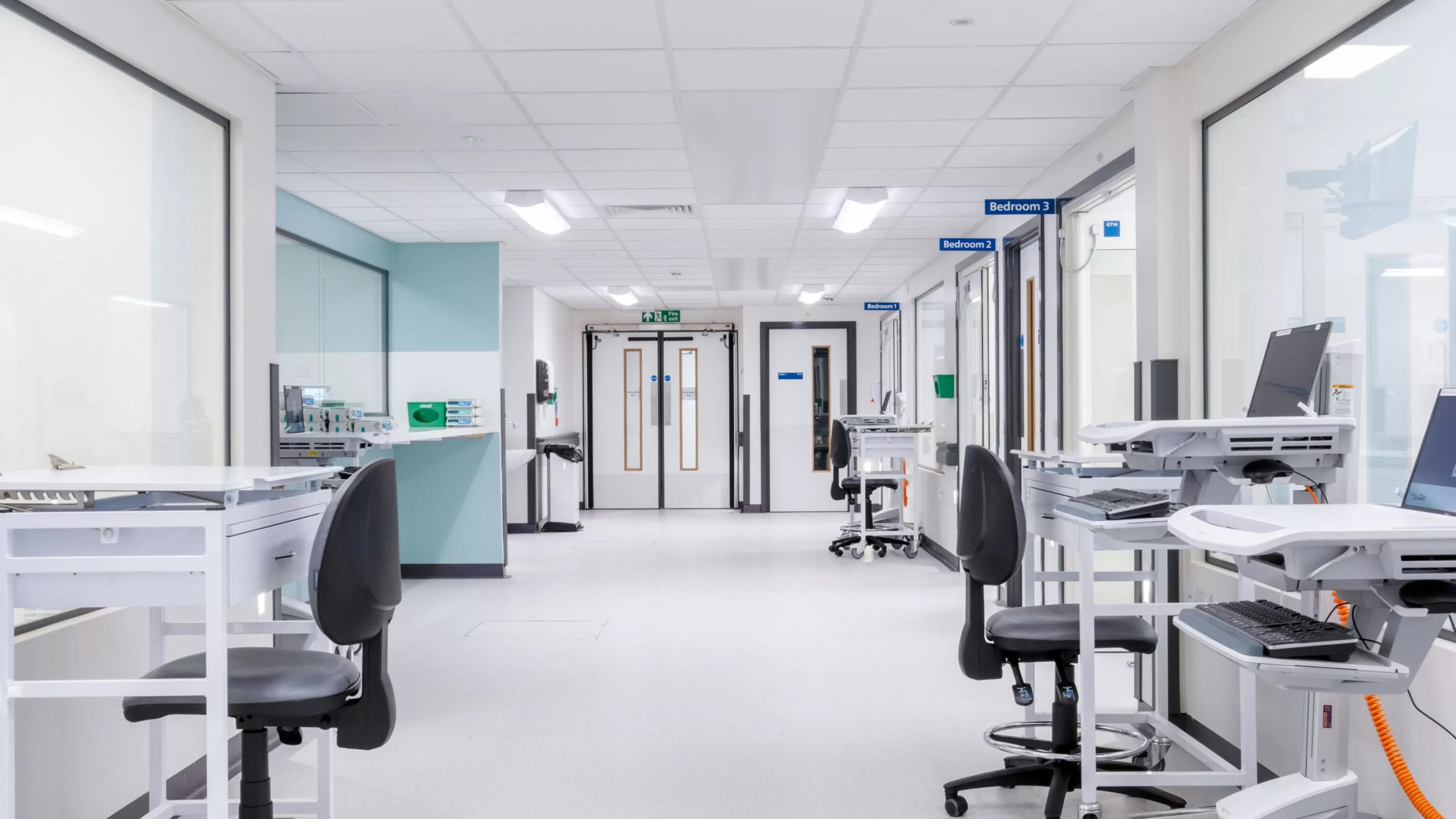 Intensive Care Unit
A new £3m Intensive Care Unit for South Tyneside and Sunderland NHS Foundation Trust has begun to treat its first patients.
The new unit, a refurbishment of ground floor space at South Tyneside Hospital, provides spacious new facilities with state of the art equipment to treat some of the hospital's most critically ill patients. The P+HS team worked closely with clinicians to design the new facility to be efficient operationally and to create a bright and pleasant environment for staff, patients and their families.
Accessed via airlock lobbies off the main corridor, there are 6 generously sized patient rooms with the latest medical equipment and ample space for staff to work comfortably and efficiently. All rooms have 'smart glass' so that they can be switched between opaque, affording privacy for patients, or clear to allow staff observations. Outside every room is a workstation on wheels with a laptop for monitoring, medical notes, and results. The large nurse base is located on the main corridor too, with a large window creating both connection and separation. In addition to the main clinical areas, the new unit includes stores, clean and dirty utility, reception, waiting area, private interview room, office, staff seminar room for training, staff room and staff shower and change areas.
Working on a live hospital site, works were carefully phased and coordinated by Northeast based contractor Tolent to mitigate the challenges of working adjacent to the hospital's operating theatres.
Pete Hersey, Consultant in Critical Care Medicine and Anaesthesia, is Clinical Co-director of Critical Care for the Trust and said the team was delighted to move into the new space. He said:
"This new Intensive Care Unit in South Tyneside District Hospital now provides some of the best facilities in the world to care for some of our sickest patients. We have spacious single rooms that offer privacy and a much better experience for families spending time with their loved ones. The equipment within the unit is also all brand new and of a really high specification. We have rest facilities for staff and areas for education and training and that will make a real difference to our team in the years ahead. We are proud to say that with this new facility, we have created the best environment to allow the best care for the population of South Tyneside and Sunderland."