On Site MCC Ward Refurbishments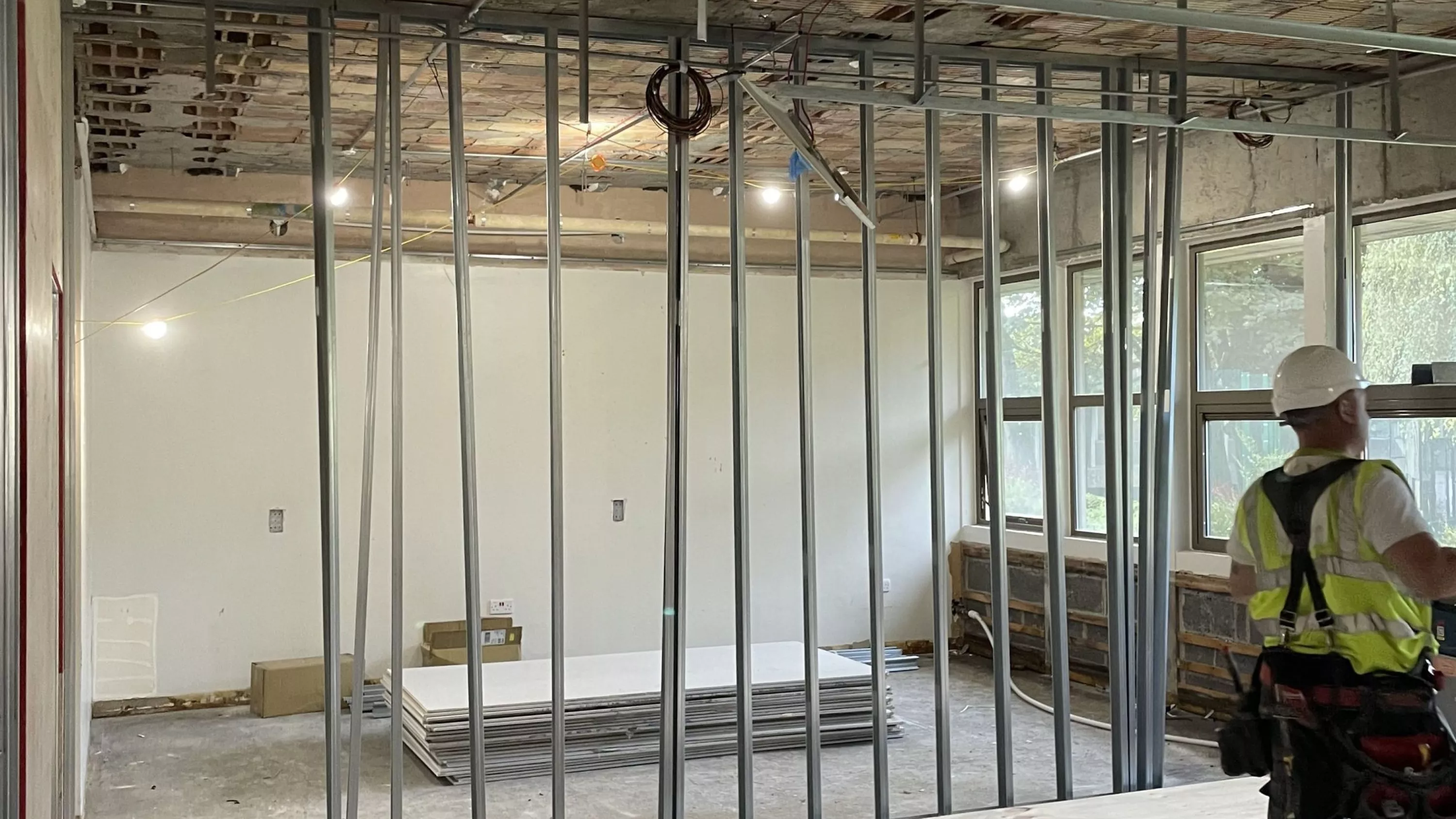 On Site MCC Ward Refurbishments
Our team is working with Sheffield Health and Social Care NHS Trust to improve facilities at the Michael Carlisle Centre, specifically to the Stanage and Burbage Wards which provide services for adult in-patients with acute mental illnesses. The works will see the end of dormitory accommodation and include internal alteration to the existing building to form new rooms, M&E upgrade works, new windows, and fire door installation to both wards.
The works began in August 2021 and are being phased to minimise disruption on site. Completion is expected in May 2022 with Stanage completing December 2021. Burbage Ward is a greater scope of works including 16 En-Suite Bedrooms, 1 large Bathroom and multiple other rooms such as MDT Rooms, Open Plan Day Spaces, Dining Room, Treatment Room, Dispensary Room, De-Escalation Room, Relaxation Room, 1 Accessible Bedroom En-Suite, Kitchen Room and Staff Areas Etc.
May 2022
Feature walls along the main Burbage Ward corridor have now been added. The Trust intend to hang similar colour themed artwork against these painted areas. Also shown in this latest series of images is the chalkboard paint that is being used to create an A2 size writeable area in each bedroom.
April 2022
Great work continues at Burbage Ward at Sheffield's Michael Carlisle Centre with floor, wall paint finishes and wall protection well on the way. Created from an artist's original painting, the printed wall protection shown here is from an artist's painting blown up to a large scale. The image references the local countryside, depicting two magpies against the backdrop of Win Hill in the Peak District just outside Sheffield.
March 2022
Burbage Ward is moving closer to completion with the hand over date set for the beginning of June. The ward has all IPS installed throughout with Ceiling boarding to commence next week. Floor finishes to begin in the coming weeks followed by wall finishes.
December 2021
4 new bedrooms for Stanage Ward with 2 x WC / Showers and one Large Bathroom completed.
October & November 2021
Construction in Stanage Ward
October 2021
Construction Burbage Ward
September & October 2021
Demolition phase