Hammerson House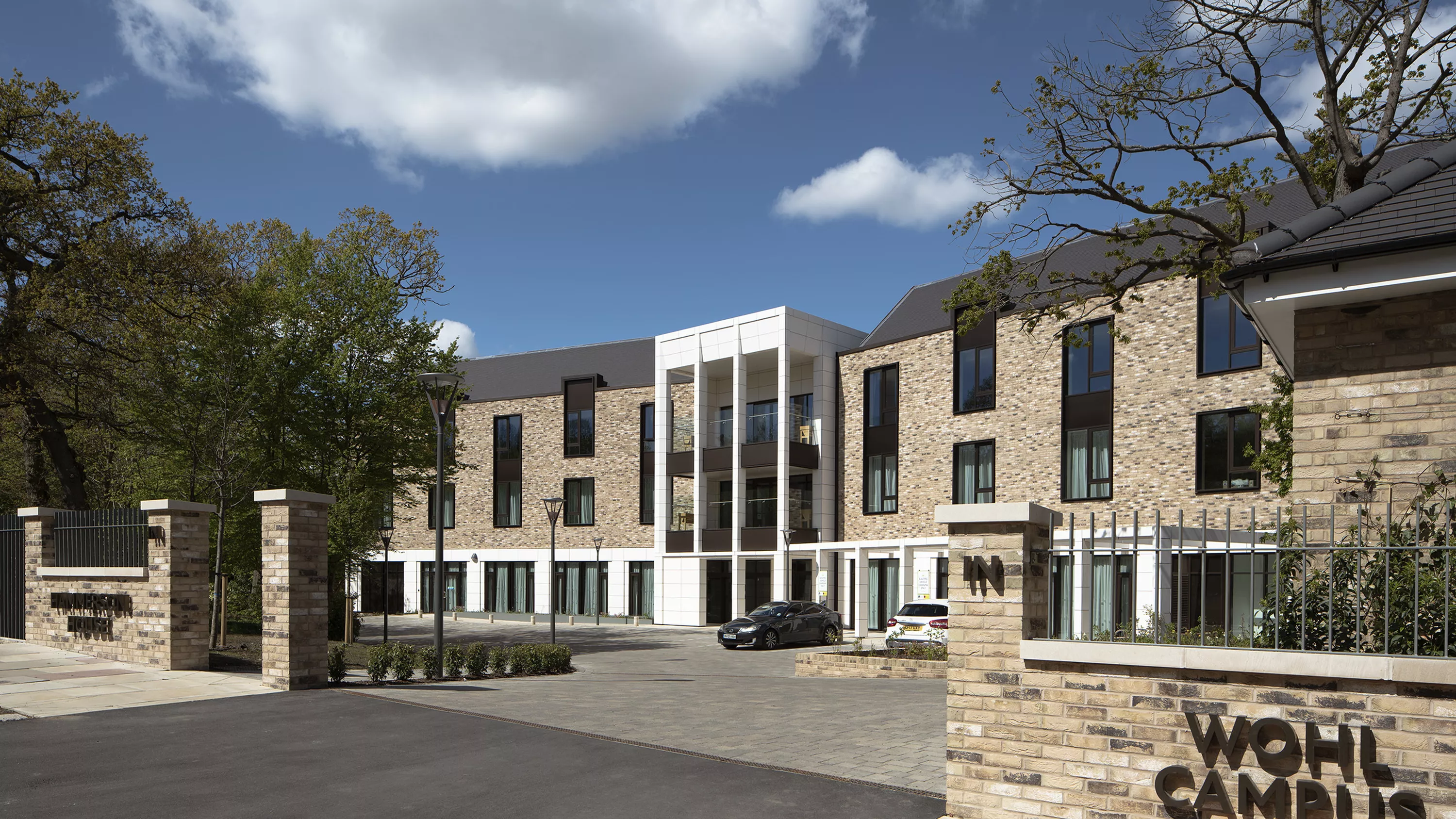 Hammerson House
Hammerson House is a care home in North London for Nightingale Hammerson. Setting a new standard for older age care, the building was crowned Best Social Care development at the Building Better Healthcare Awards 2021 and is shortlisted for the Housing Design Awards 2022.
Opening the doors to its first residents in May 2021, this world class care home provides 116 bedrooms arranged in small clusters to create 'households' each with their own lounges, library space, kitchen areas and resident dining plus therapy space and external balconies.

As well as being home to its residents, the building is designed to play an important part within the community and includes extensive mixed use space: an events hall for internal and external functions; an inter-generational space for local nursery children to come together with the care home's residents; a Café, Hairdresser, Shop, Physiotherapy and Primary Care suite; on-site Hotel Services with commercial catering and laundry plus Offices and Meeting space for the charity.
With thanks to David Churchill and Nightingale Hammerson for the photos.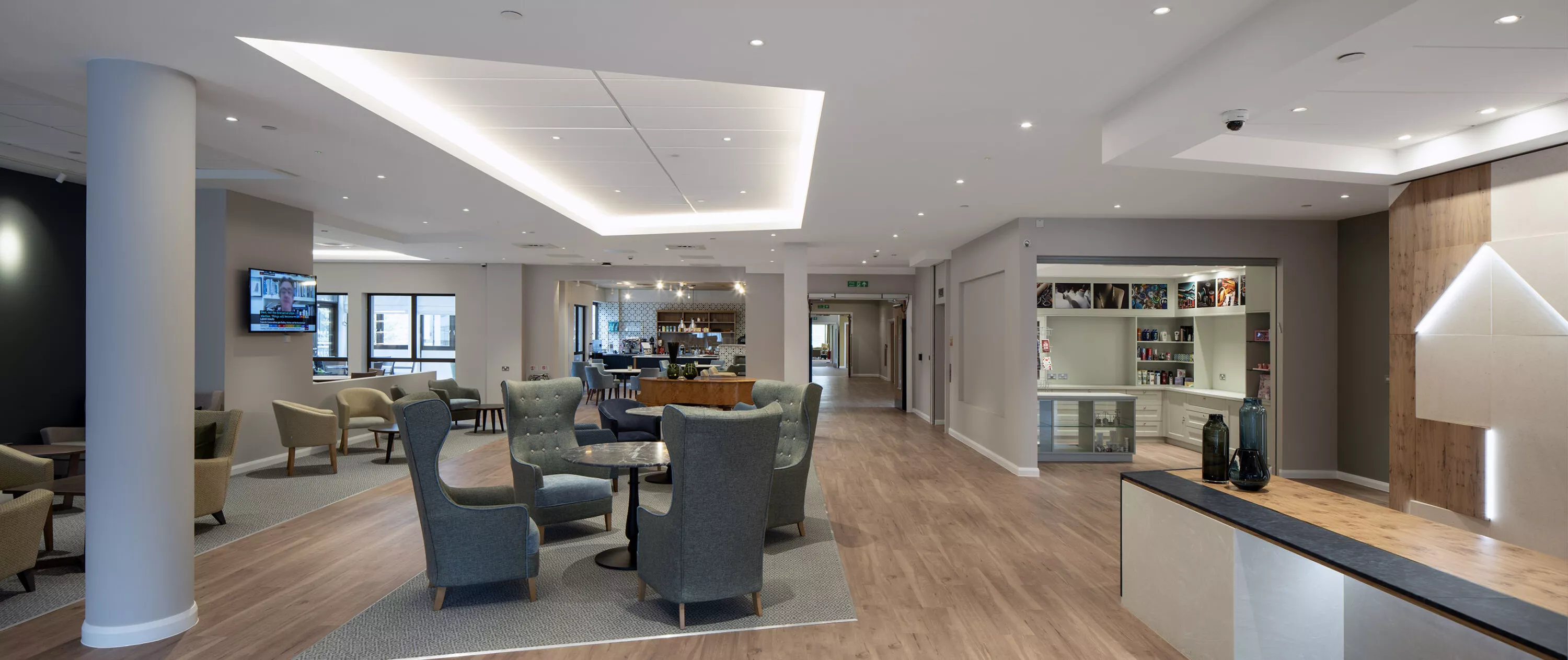 Our design development process began with engagement with the Charity's team, to understand what was important to them for their new home. A visit to Nightingale House in South London showed us what features really worked for them, and how this could be replicated in the new facility.

The sense of Community at Nightingale House included "household" living, with communal lounges, café, inter-generational activity room, and the home's very own cat. Much of this had been reflected in the earlier design, and was retained as we moved forward with design development.
So the design of the new Hammerson House starts with a welcoming front door, with the interior delivering a contemporary vision of a country house hotel, where residents and visitors are encouraged to use the range and variety of spaces as they choose, and where activities such as piano playing or poetry groups can take place.
The café is visible from the reception foyer and invites you through to enjoy garden views and access from the conservatory. The conservatory roof also opens to allow fresh air, meeting the requirements for the Jewish Sukkot festival. On a sloping site, this upper ground floor has a natural flow from public to private. A large communal hall is located near reception and will provide space for religious gatherings, fundraising events, or watching Wimbledon. Adjoined by inter-generational spaces, lounges, café and shop, the main foyer also includes recognition to the many fundraising donors, and famous past residents. The reception also gives way to a hairdressing salon, physiotherapy space and visiting Doctor's consulting rooms.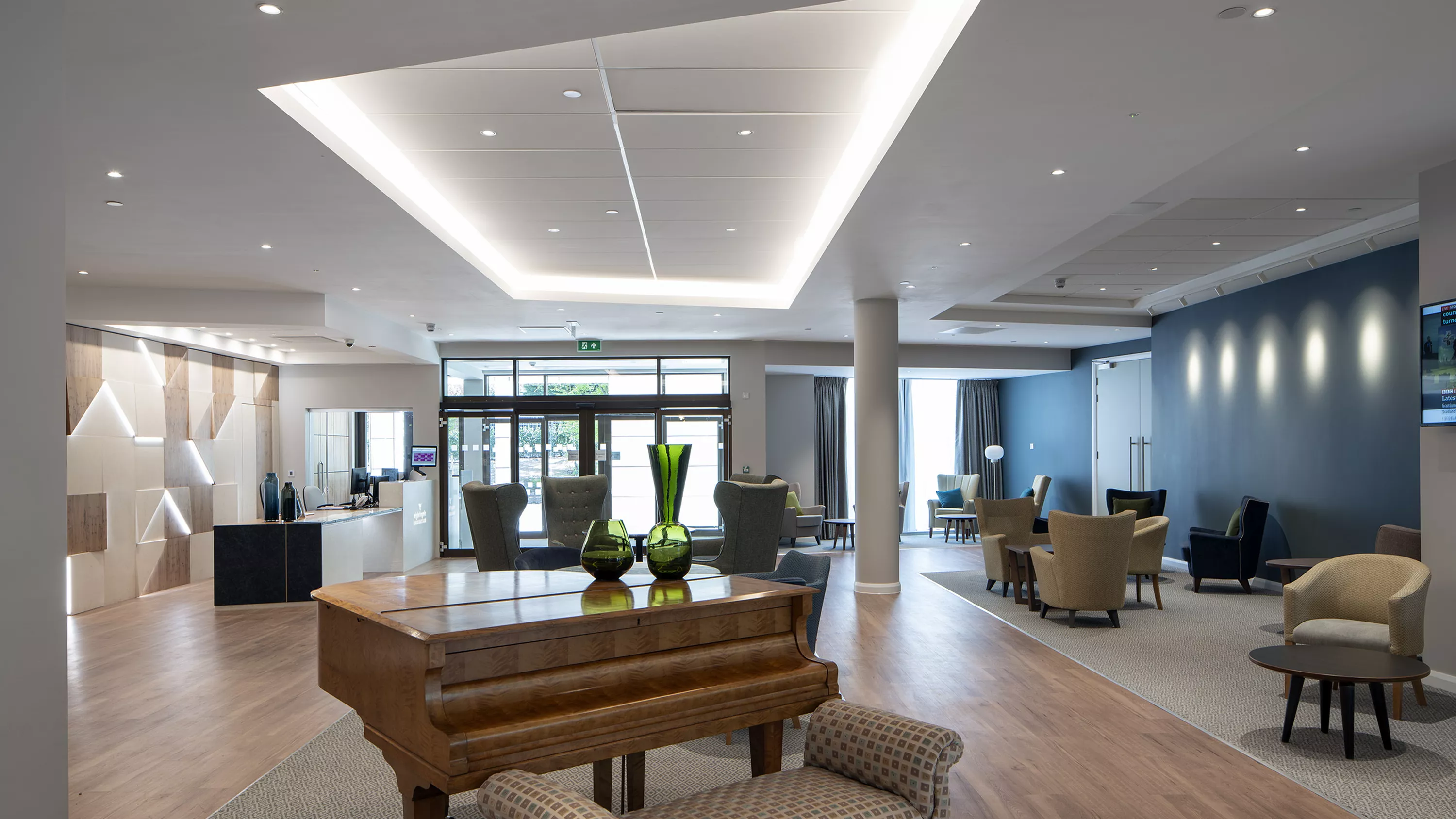 Beyond the lobby, access is given to households on four levels, one at Upper Ground and two above, each enjoying winter terrace access from lounges spaces. At lower ground "garden level" residents rooms open up on to a garden terrace, ensuring any less mobile residents can still enjoy fresh air and birdsong.
Upper level households vary in the level of care they provide, from residential to nursing and specialist dementia care. Importantly, and regardless of dementia, each household is designed to be intuitive in wayfinding. Central lounges and dining areas, with activity kitchens, support bedroom clusters of 8-10 beds. A Namaste Therapy room and Spa bathroom is provided to each household. Corridors are wide and non-linear, removing any resemblance to an institution, and allowing points of interest, and paces to pause, along the way; whether a writing desk or interesting memorabilia. Each bedroom door has a large memory box provided for the resident's name and cherished items.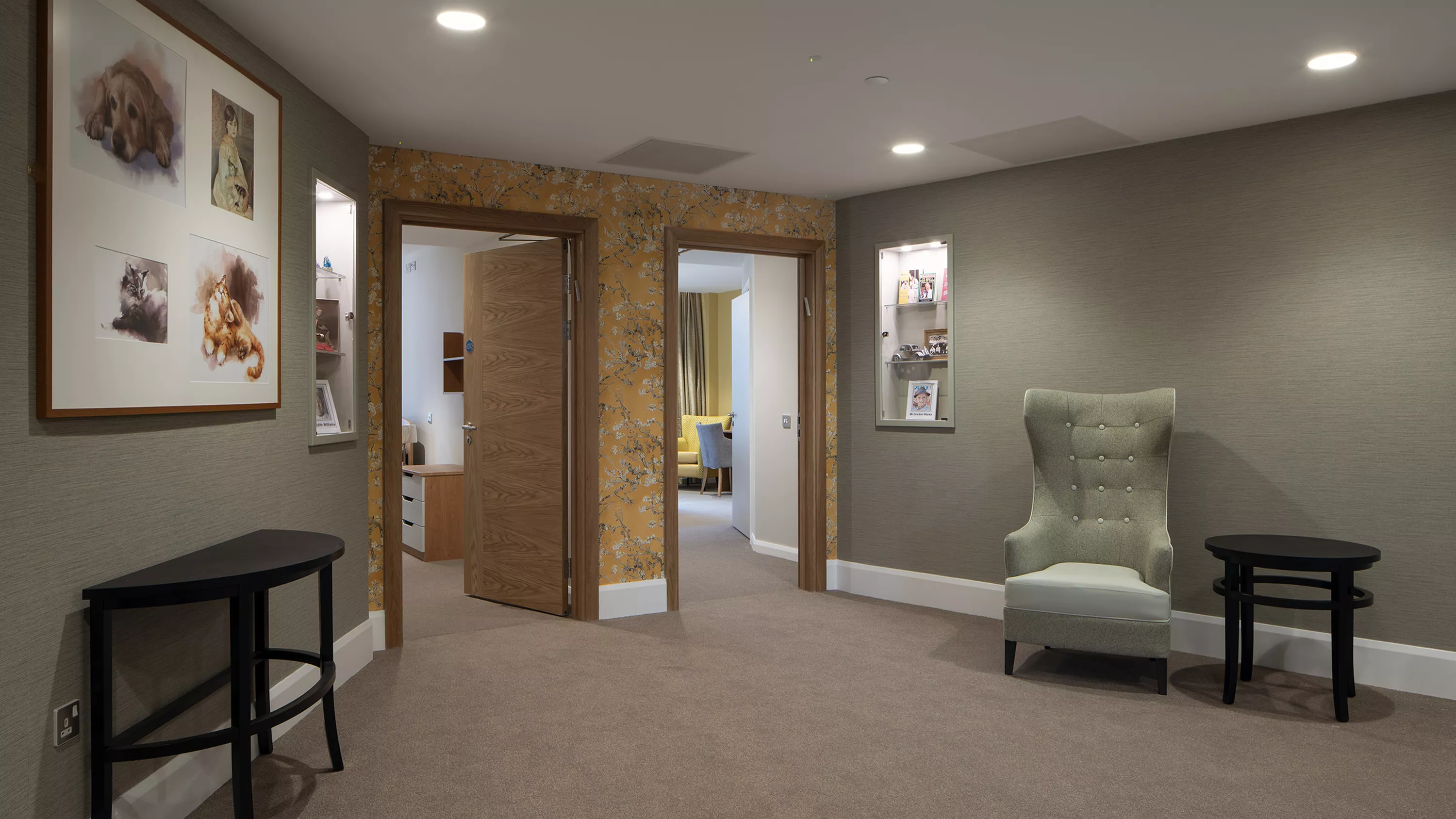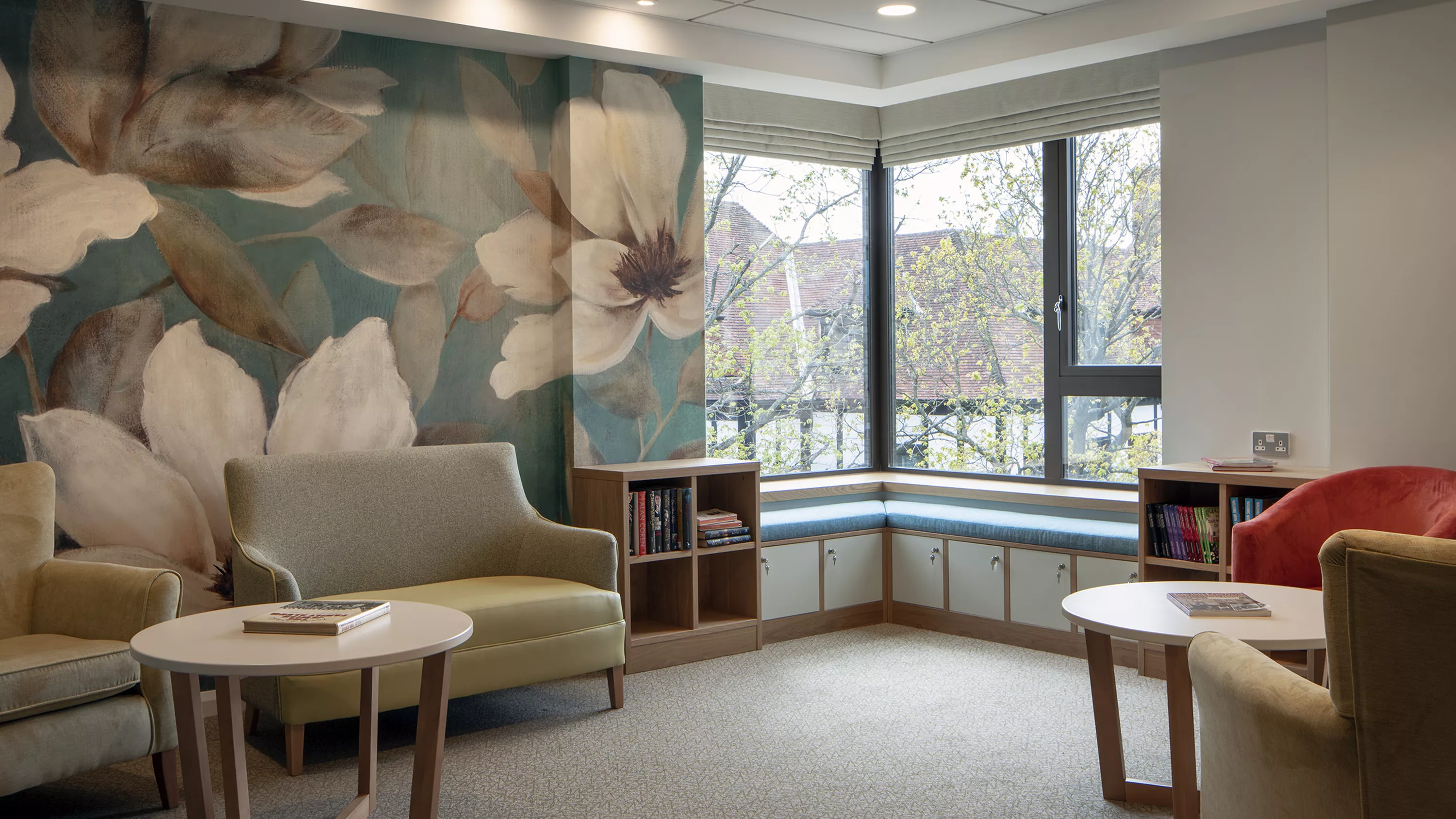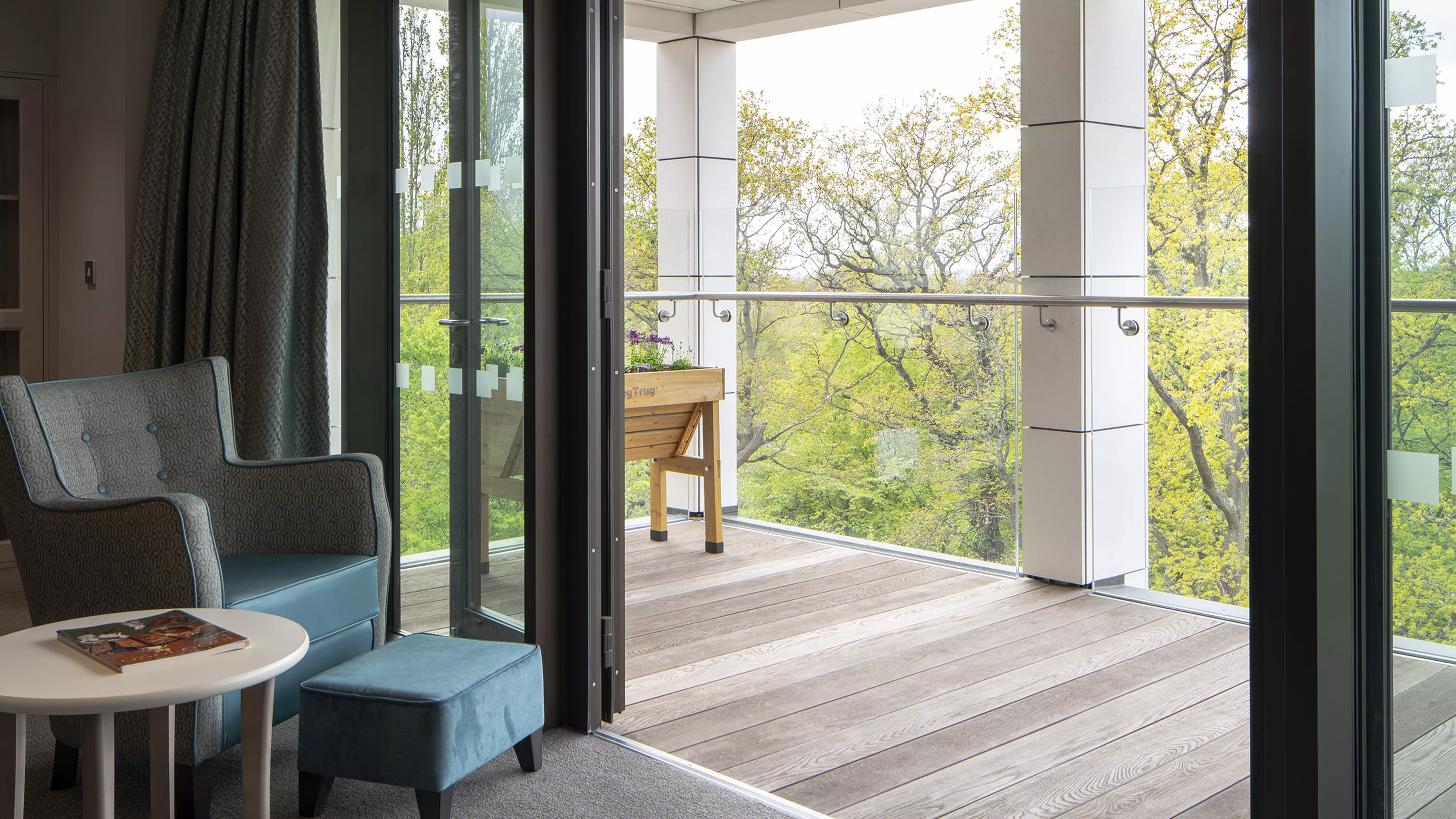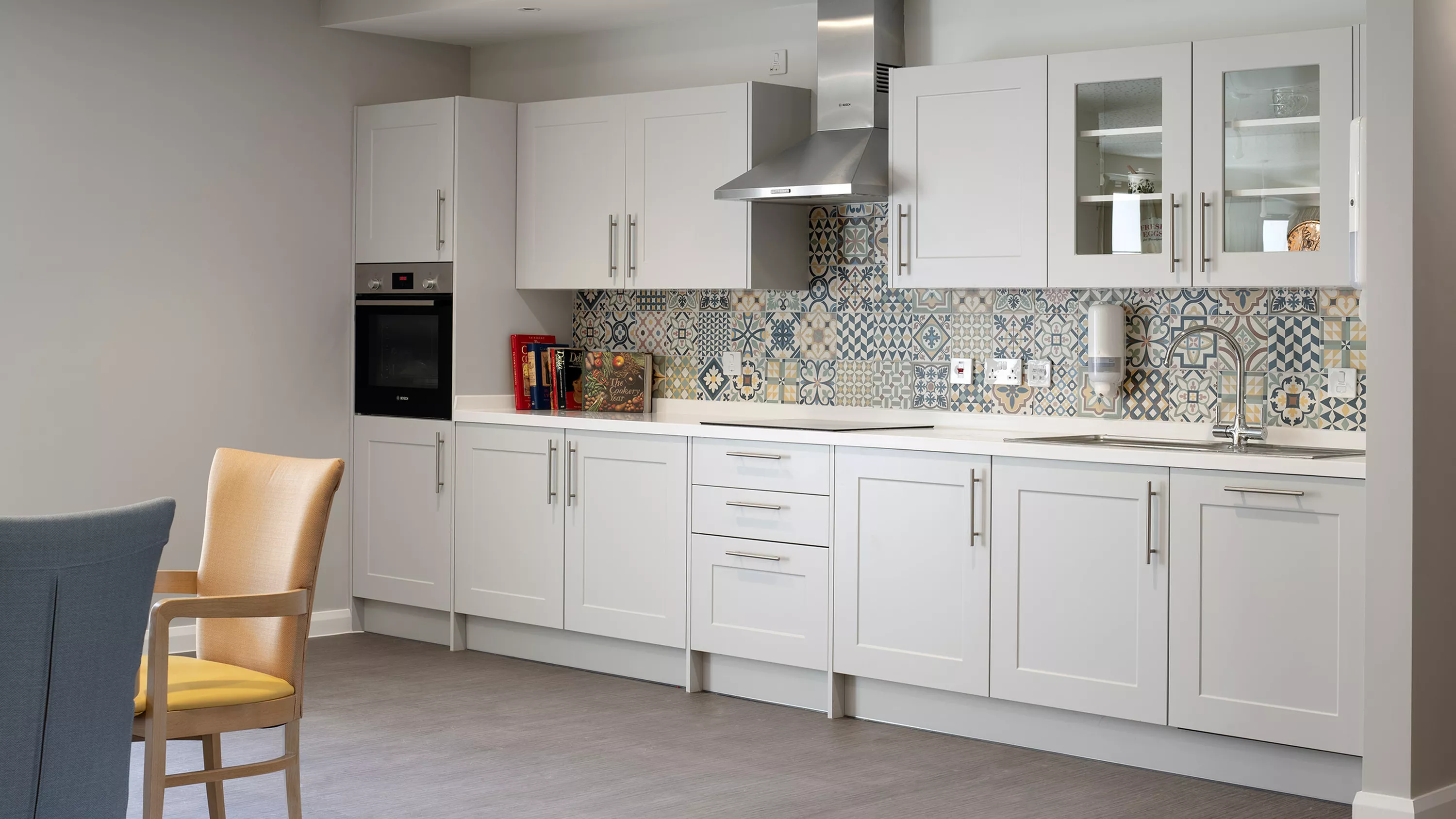 Bedrooms are large, allowing specialist beds to be located to the residents' preference, whether visible to the doorway, or with more privacy. Regardless, each bedroom has a large window with views, and space to bring a resident's own furniture if desired. All bedrooms have a thoughtfully designed en-suite bathroom with fittings that support the required levels of care.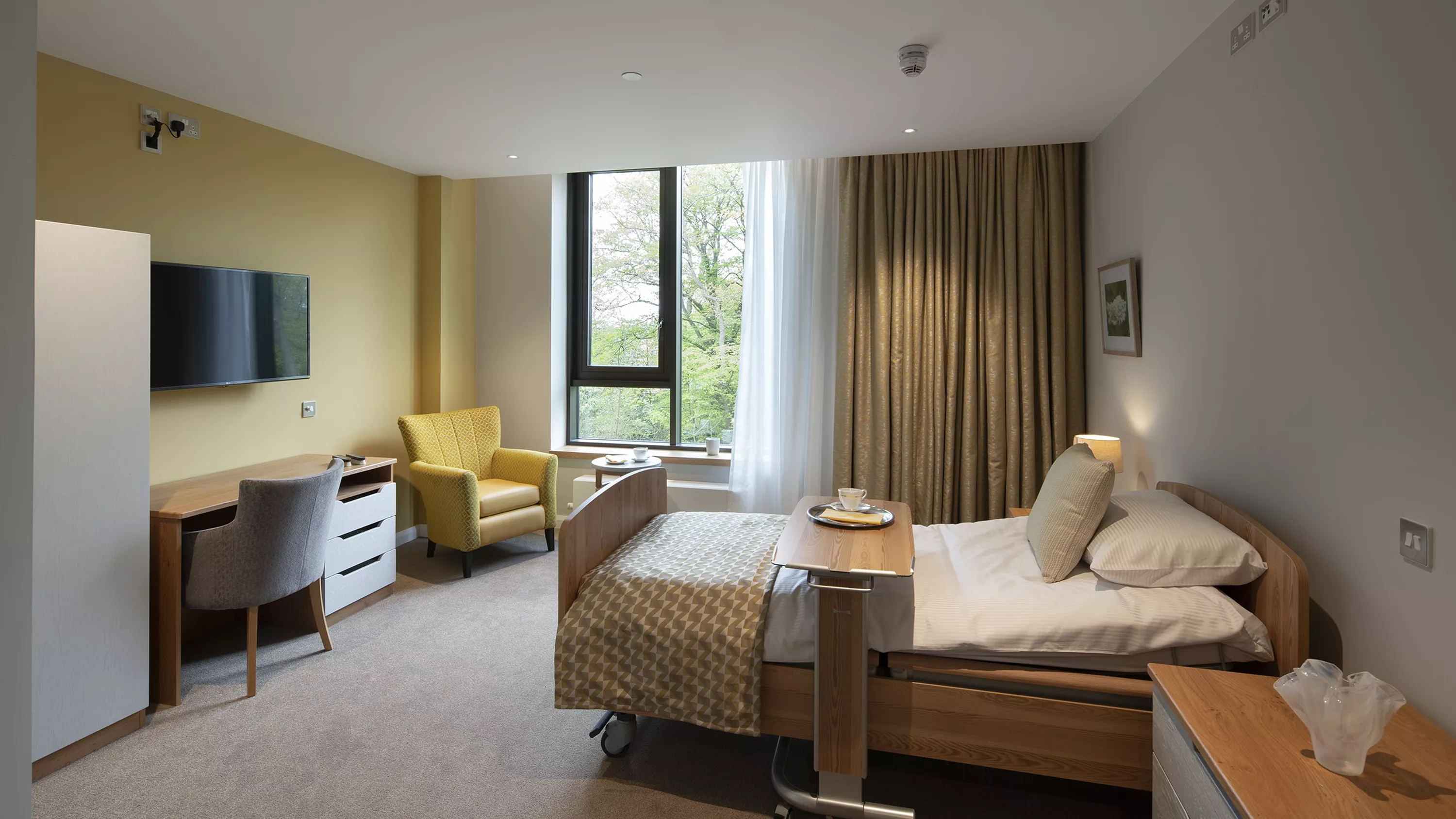 As well as detailed design and production information, P+HS Architects' commission was extended to provide Interior Design, FF&E and Arts Coordination services involving many hours of consultation and feedback with the charity's working groups. Throughout the home, careful attention to detail was given to create a best-in-class place. Furniture has been selected to support the needs of residents and visitors and all is complemented with beautiful contemporary wall coverings and fabrics. Artwork was chosen from the Charity's existing library, with new artwork adding theme, interest and talking points throughout the building. In the café, a changing gallery is included to allow residents' artwork to also be displayed.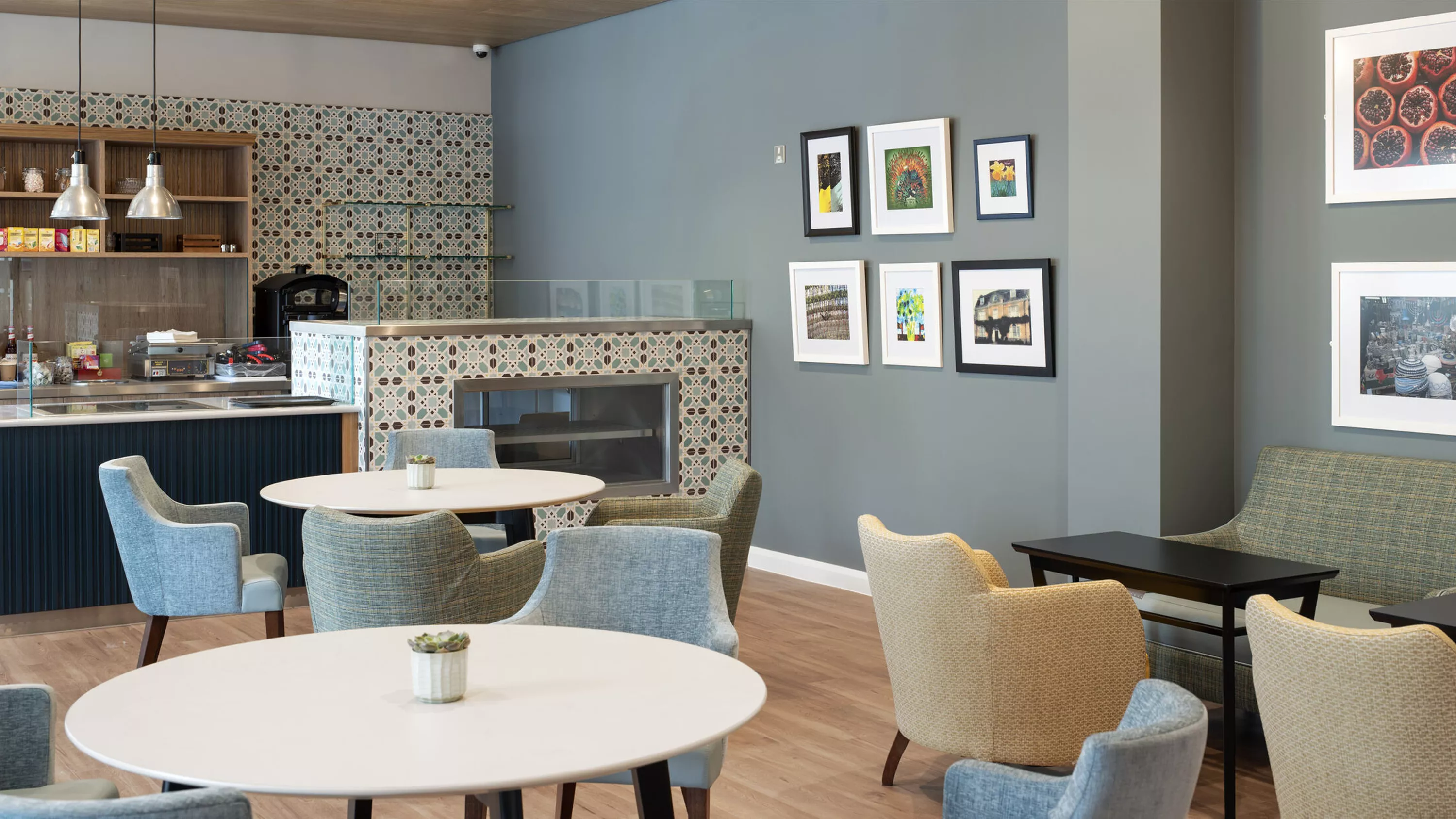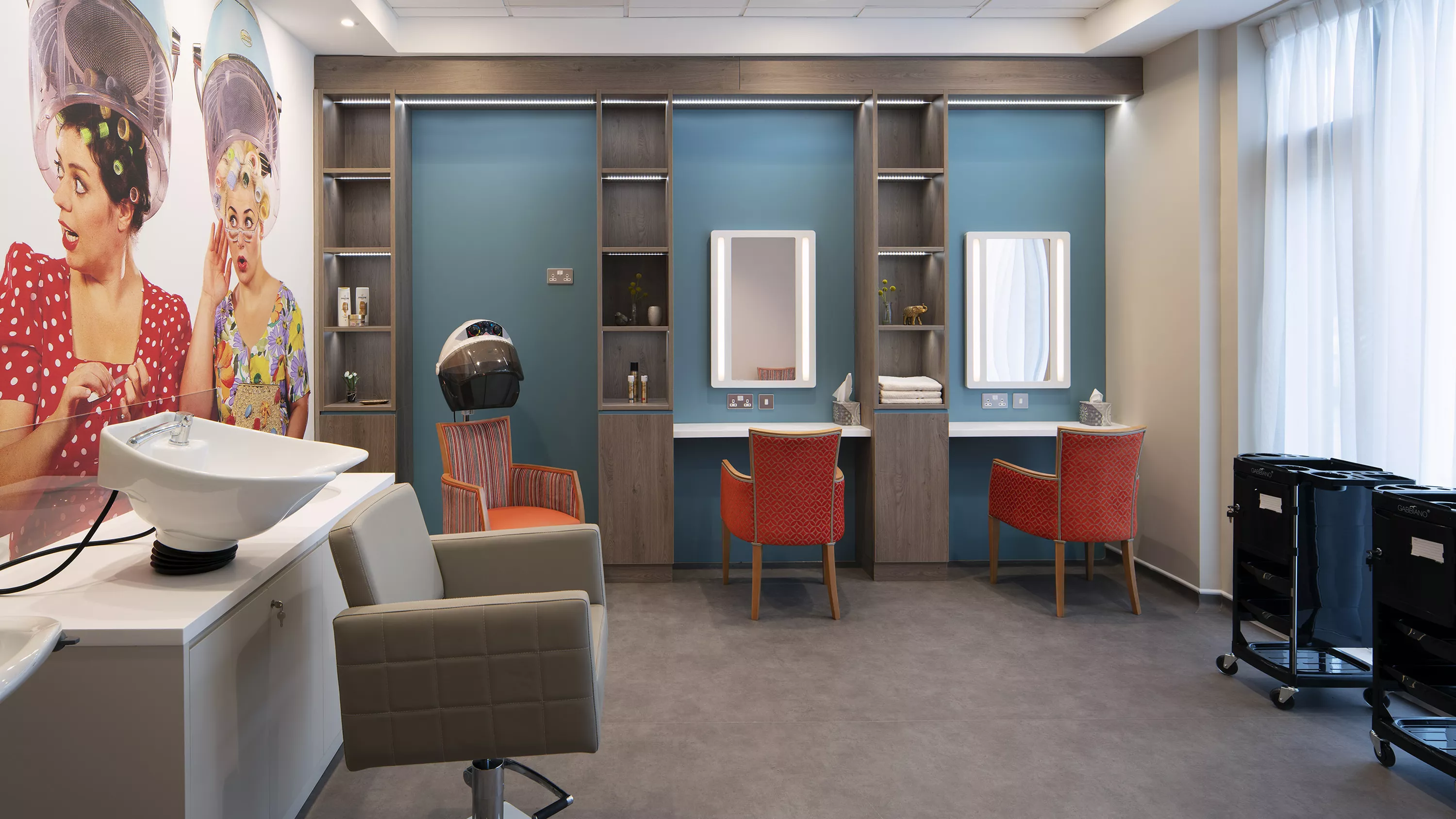 As with any country house hotel, "back of house" space is crucial to the functionality of the facility. At Hammerson House, equal attention has been paid here; a laundry chute is provided to each household, and a laundry and catering kitchen supports day to day operations, with a dedicated lift to deliver freshly cooked food to every floor.
Throughout the design, the needs of staff have been at the forefront of the Charity's vision. Staff offices are located at basement level, but have access to an outside courtyard garden. Staff catering is also provided with separate dining for both Kosher and non-Kosher meals.