Plenty to Celebrate at BBH Awards 2021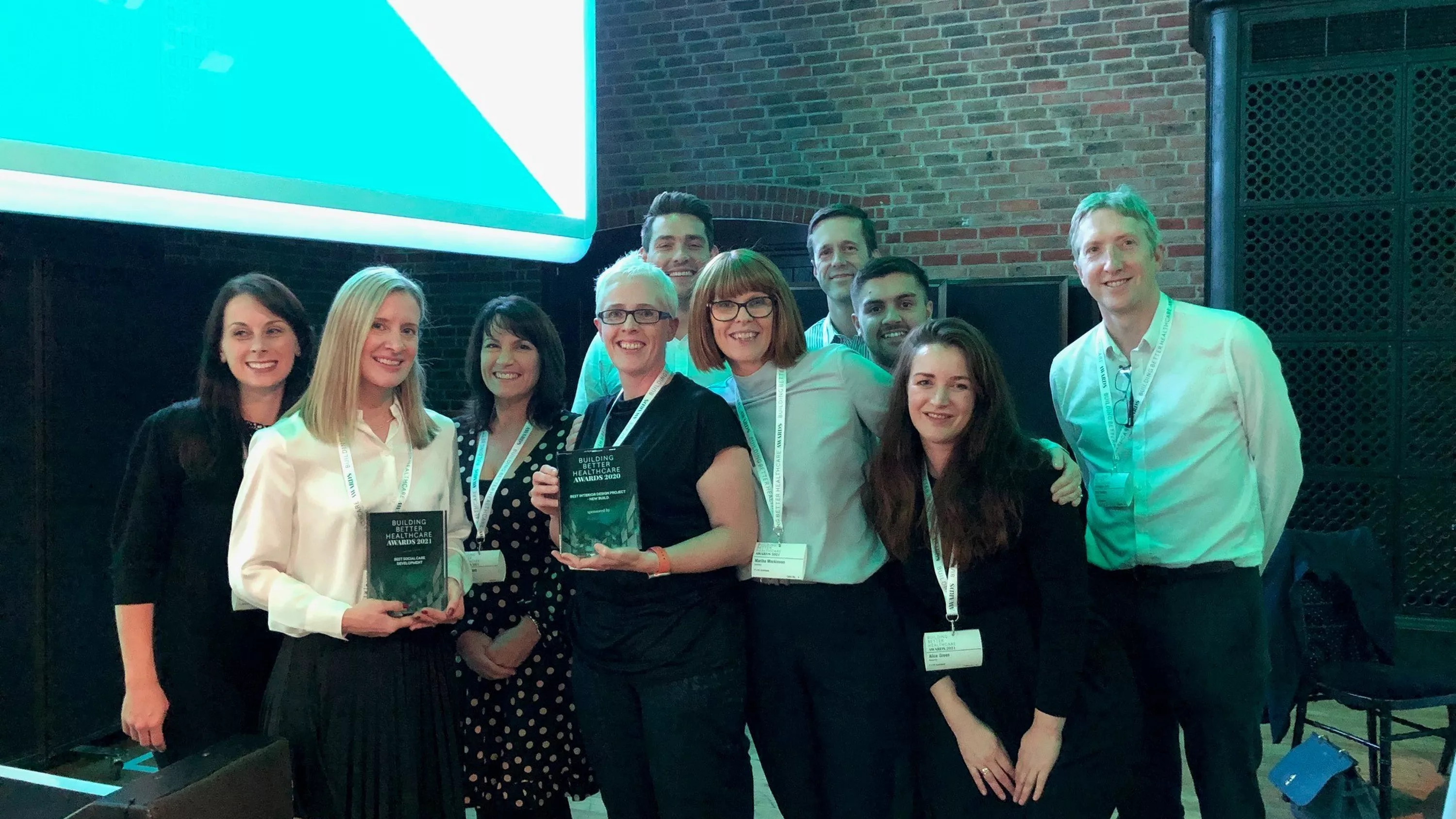 Plenty to Celebrate at BBH Awards 2021
There were smiles all round as P+HS Architects celebrated key project wins at the BBH Awards.
With this year's events covering two years of awards, the P+HS team were delighted to be recognised as winners in both 2020 and 2021, demonstrating its huge body of quality work and consistent performance across the healthcare sector.
York's adult acute mental healthcare hospital Foss Park, constructed by Wates, won Best Interior Design 2020 and was also Highly Commended by the judges as Best Healthcare Development over £10m. Absorbing the challenges of mental healthcare environments whilst creating a relaxed and therapeutic environment is a real achievement. Martin Dale, Strategic Project Manager for TEWV said "The awards mean a great deal. We made sure that at every step of the project inclusion was the key focus. The extensive design processes with a clear steer from our service users and carers, and the continued (and fully embraced) focus on recovery meant that we developed a site based on service user and carer needs and preferences, and not merely on traditional clinical models. This made a real difference to the interior design choices, and they are seen to positively impact our service user experiences of being in hospital here. The drive for a high-quality healing environment remained consistent throughout. These awards are a wonderful way of crediting that work. Well done to everyone at P+HS who made the Foss Park vision a reality"
Also Highly Commended for 2020 was North Tees & Hartlepool NHS's new Energy Centre at University Hospital of North Tees with principal contractor NG Bailey and P+HS for Best Modular Facility.
There was a major win for 2021 as well, with Nightingale Hammerson's new Care Home, Hammerson House named as Best Social Care Development 2021. Director Cath Lake said: "We are delighted that this wonderful building has achieved the recognition it so richly deserves. So many people have been involved in its making, from Pollard Thomas Edwards' initial design through our involvement in planning revisions, technical delivery, interior design, and FF&E to the work of contractor Bowmer & Kirkland, and Client's Agent CalfordSeaden. Most importantly though has been the vision of the charity Nightingale Hammerson whose unwavering pursuit of excellence to meet the needs of every resident has resulted in this exceptional home like environment that is set to become a true community asset. This is a real team effort, and we are immensely proud to have played a part in it."
Derek Shepherd concluded: "After months of postponed in-person events and through particularly challenging times for the healthcare sector, this year's Building Better Healthcare Awards at The Brewery in London felt even more special than ever. Being able to come together to celebrate the exceptional work of so many dedicated people working across healthcare was an inspirational reminder of how much we have to be thankful for."
"Over the coming months P+HS Architects is looking forward to more exciting collaborations, new challenges and project successes as our healthcare teams partner with clients old and new, working together to enhance lives. "