Leicester Hospitals Hybrid Theatre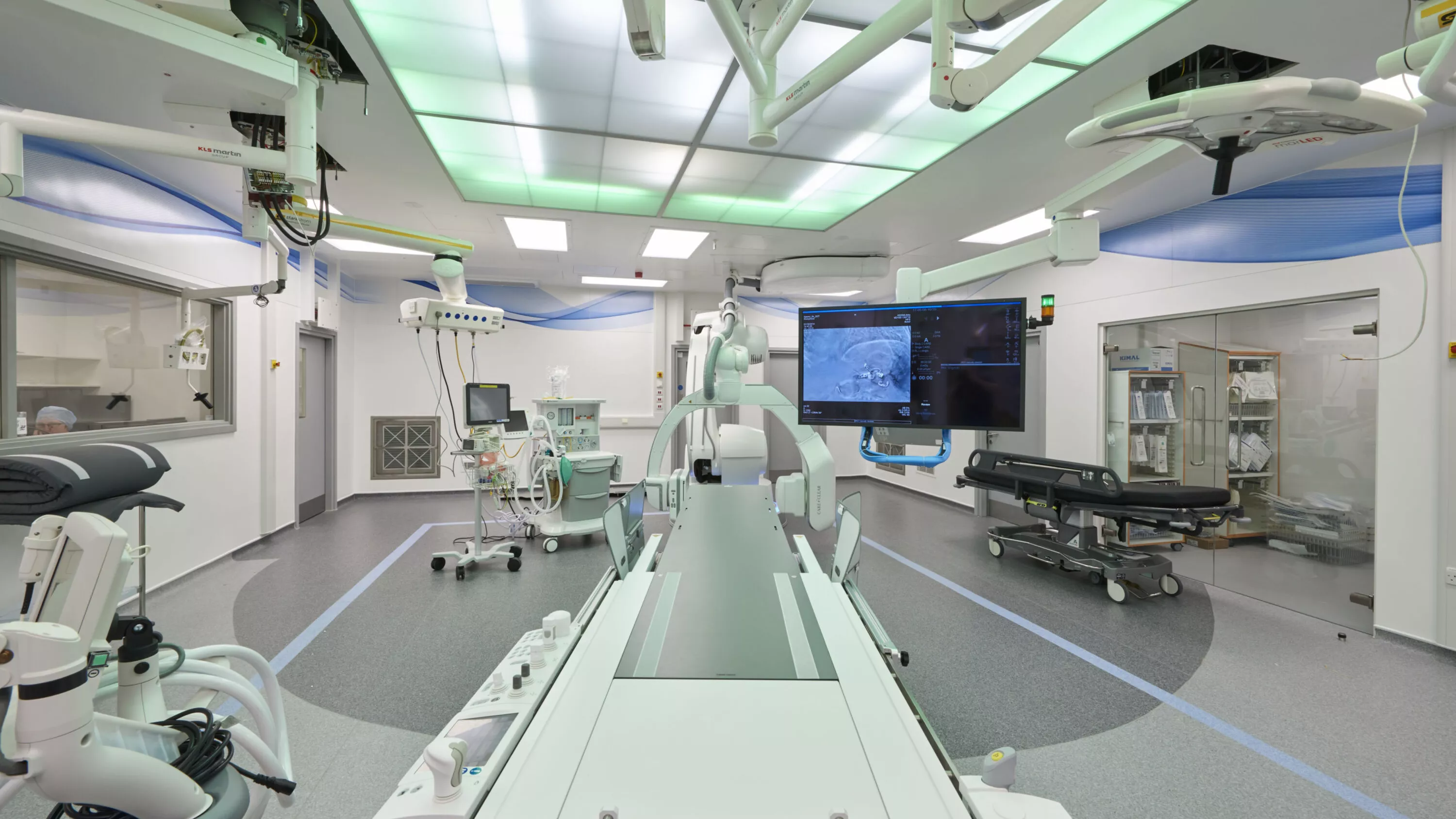 Leicester Hospitals Hybrid Theatre
University Hospitals Leicester NHS Trust (UHL) is one of the leaders in the provision of cardiovascular services and one of the biggest and busiest NHS trusts in the country, operating across three main sites. The P+HS team worked with Interserve Construction, creating a new build extension at Glenfield Hospital for UHL to accommodate a new hybrid operating theatre as part of a site wide cardiovascular services integration project. The site choice enabled the team to develop a flexible solution which allowed potential future expansion as well as providing a large plant room and service void above the theatre. The steel framed construction with concrete floors provides an adaptable shell in which significant mechanical and electrical equipment can be installed.
The hybrid operating theatre is used for both cardiology/cardiothoracic surgery and vascular procedures and a joint approach was taken to its design and development. The availability of diagnostics within a surgical operating theatre allows integrated treatments, flexibility in procedures and a reduction in consecutive waiting times.

The design team worked closely with UHL's Major Project Team and clinicians to define the specific requirements of the clinical brief to ensure these were incorporated into the proposals. Central to the theatre's design was the collaboration and co-ordination with specialist equipment suppliers and consideration of design aspects such as optimum working space for clinicians, clinical storage, infrastructure and plant room accommodation, radiological protection and access for the maintenance of equipment.
The operating theatre is the focal point of the hybrid theatre suite and all other rooms and adjacencies are determined by its requirements. The new facility at Glenfield Hospital incorporates a floor mounted diagnostic C arm with additional specialist equipment provided by Starkstrom and Interfurn. Diagnostic equipment is managed from an adjacent control room with an additional equipment room required by the equipment supplier. Further support accommodation includes anaesthetic room, dirty hold, utility, clinical storage and table store.