Day Treatment Centre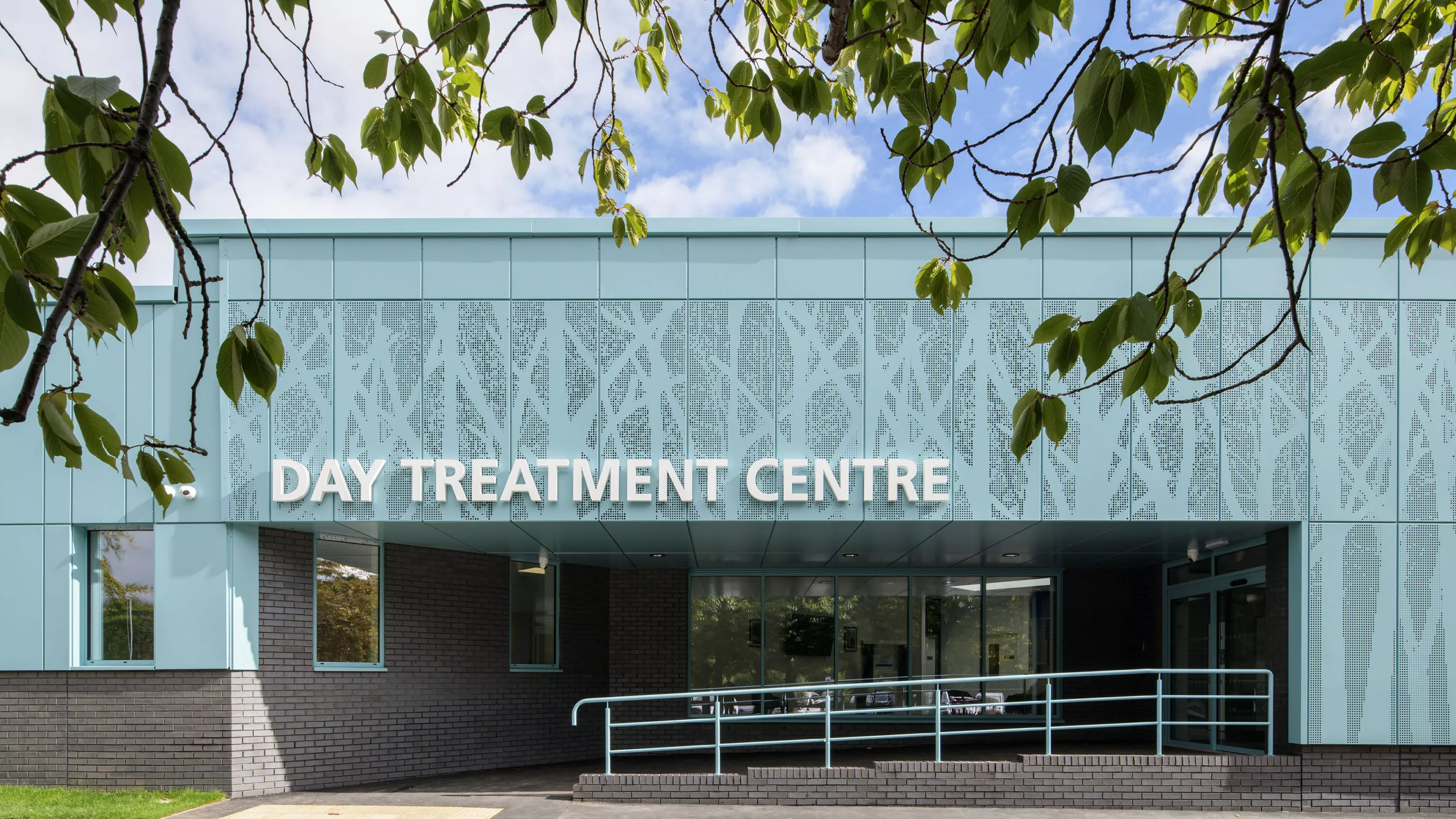 Day Treatment Centre
A fast-track project developed to tackle NHS waiting lists, the new Day Treatment Centre at Newcastle's Freeman Hospital went from car park to completion in under 38 weeks.
Responding to growing concerns over the increasing waiting times for elective surgery, Newcastle Hospitals NHS FT utilised the Covid emergency legislation of 'permitted development' so that the scheme could be developed rapidly under time limited planning permission available to Local Authorities and Health Authorities.
P+HS worked full time with the client's clinical team over an intense two week period to develop the brief, prepare concept designs and establish an initial outline proposal for approval. The design team then worked with main contractor Robertson Construction, to develop the design information and allow a rapid start on site to achieve the construction timescales.
The scheme has four theatres (two with laminar flow canopies providing ultra clean ventilation) to deliver a range of non-complex surgery and procedures including orthopaedics and urology. Designed to ensure an efficient and enhanced patient flow, the scheme also includes 14 pre-op bays, 8 first stage recovery and 16 second stage recovery bays. Staff welfare and ancillary accommodation is to the highest standards to maintain a positive environment for both staff and patients.
Designed as a stand-alone building specifically for the treatment of day case patients with no in-patient accommodation, surgical waiting lists in the new facility will not be impacted by emergency surgeries, meaning that the focus can remain firmly on tackling the elective procedures backlog and reducing the hours that patients need to spend away from home.
Winner of both the Value category and the Integration & Collaboration award at the Constructing Excellence North East (CENE) Awards 2023 as well as Highly Commended as Project of the Year!


"From a blank sheet of paper to carrying out the first operation it was less than 12 months. This was an incredible team effort by all concerned and huge credit must go to Derek Shepherd and his team at P+HS Architects. P+HS's understanding of healthcare is second to none, they are positive, proactive, flexible, and great people and we look forward to working with them on the next project!" Martin Westgate, Director, Robertson CE Limited
To create the best possible environment for staff and patients, the P+HS team worked closely with clinicians; consulting and listening to their feedback about what they wanted, how the patient flow might work, right down to the smallest details of what would improve the working environment for staff on a day to day basis.
"I love the space, the natural light – windows we can see out of, and the storage! It was good that people from here were involved in the design" Lisa Hodgson, Clinical Educator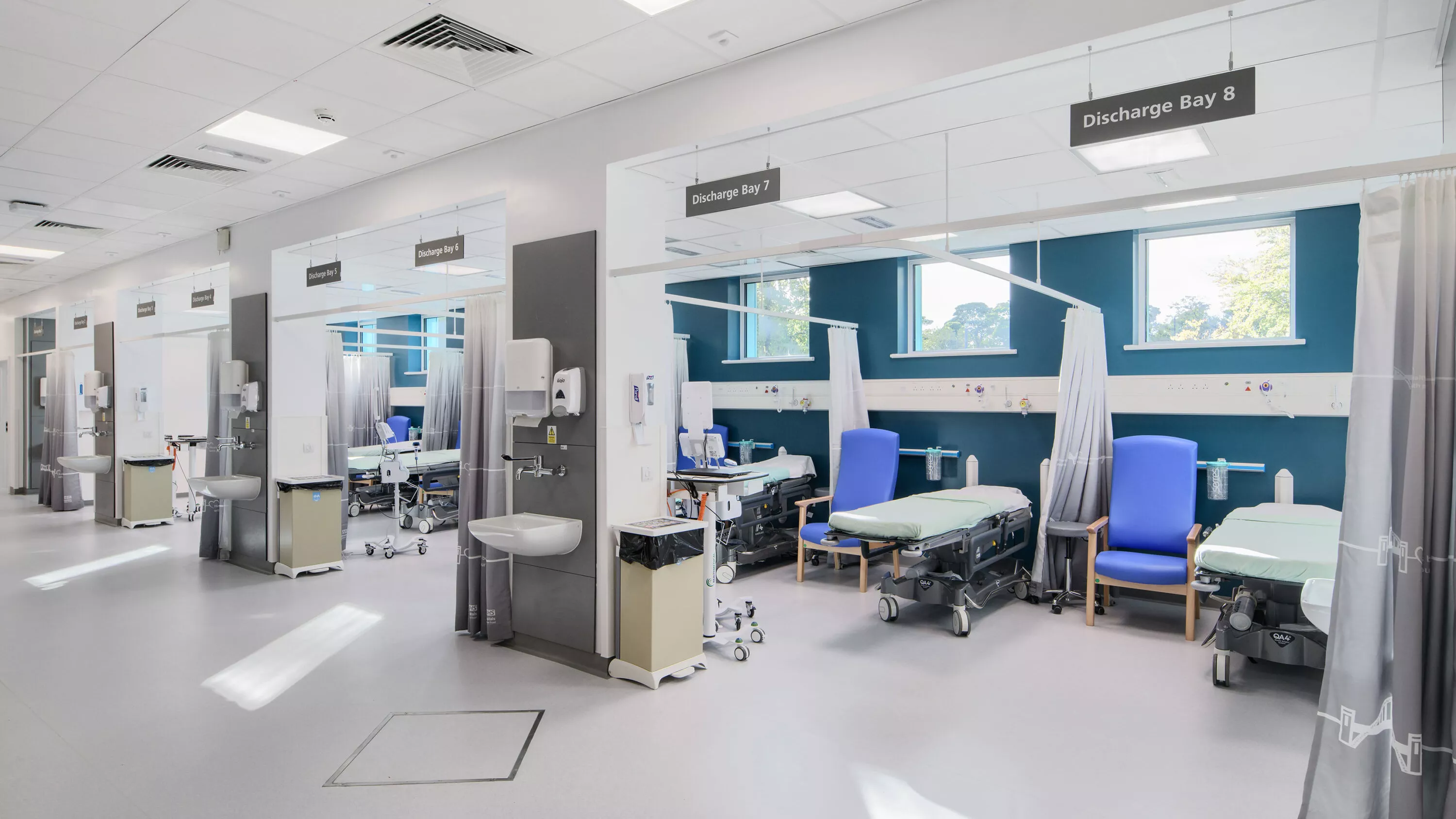 Building the new centre was also an opportunity to install the very latest technology to support excellent patient care and efficiency. Laura from the Scrubs team who showed us around had seen great changes in technology during her 10 years' nursing and was keen to show us some of the the state of the art equipment in the new theatres: innovative 'Q lights' (designed by an orthopaedic surgeon) that reduce infection risk, and connectivity of theatre equipment so that failures could be resolved remotely from the plant room without causing a full theatre shut-down.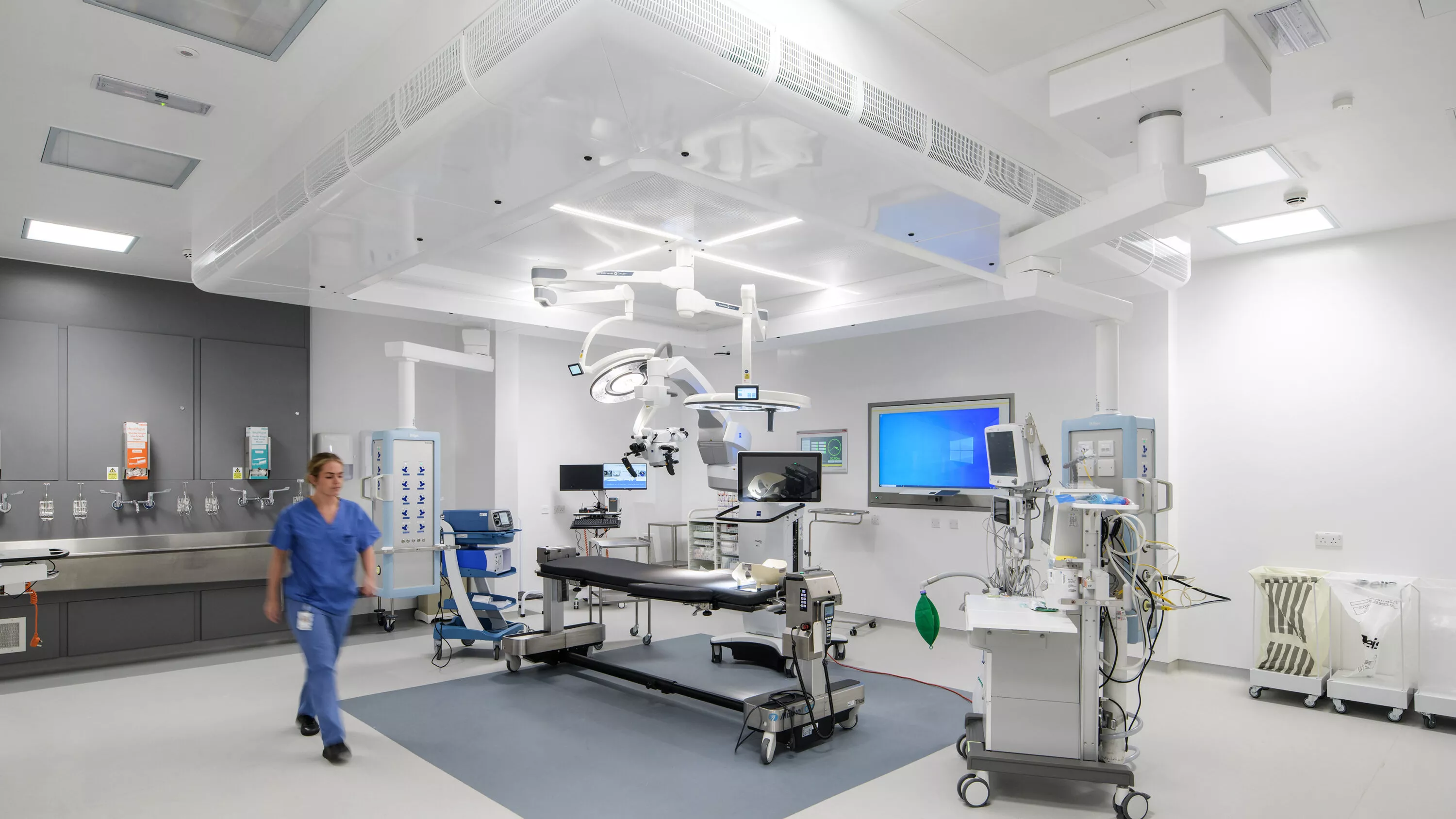 Overlooked by children's cardio ward bedrooms, and in a prominent position on the hospital site, it was important that there was interest in the elevational treatment. There were long areas of the building without windows or door openings; avoiding a 'bland box' appearance was a high priority. The team considered existing buildings on the site as they developed their ideas for the elevational treatment of the new centre; from traditional buff brick on older buildings to more contemporary solutions for later additions - perforated aluminium cladding on a new car park and engineering brick and cladding panels for the modern Institute of Transplant building. They were also keen to reference the green, tree-lined boulevards characteristic of the Freeman site.
Again, developed at pace in line with the rapid programme, the team designed several options for consideration, with stakeholders selecting a contemporary solution of back-lit perforated aluminium cladding with a repeating tree motif. The challenge of making the bespoke solution work was significant and many hours went into painstaking design, understanding panel manufacturing constraints as well as cavity barrier locations for fire compartments to ensure that the wall substructure and insulation were not visible through the perforated façade. P+HS created visualisations, physical models and even arranged a factory visit to ensure that stakeholders could understand the proposals and buy into the design concept. The result speaks for itself!